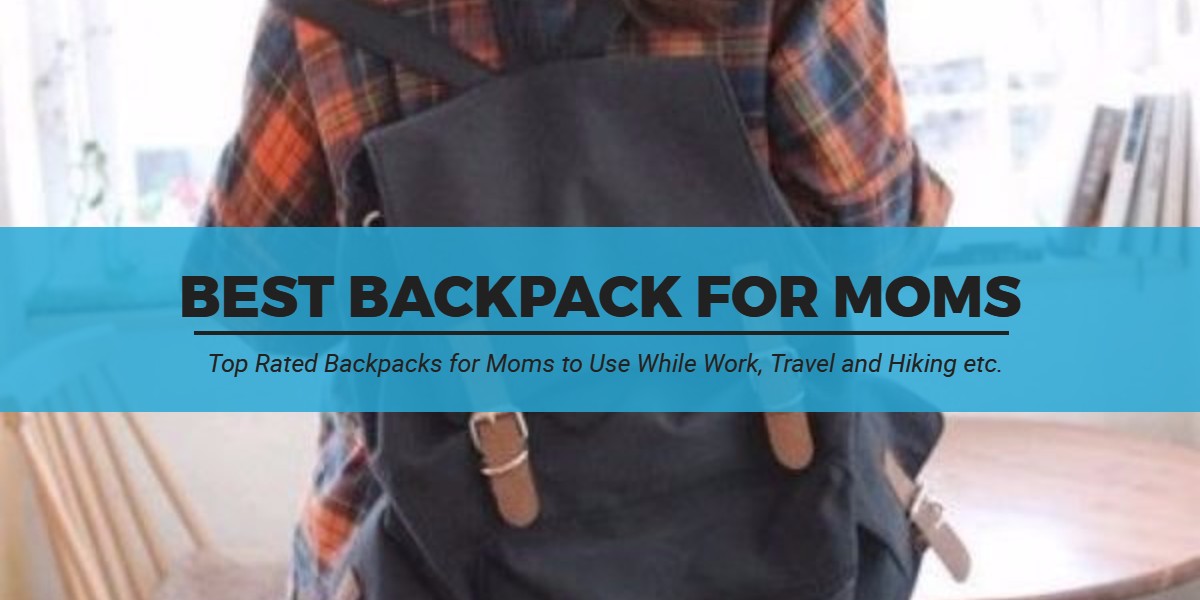 Gone are the days when you had to throw out everything from your bag to find a single diaper for your baby. In the market, now, you can easily find a backpack for moms.
Haven't heard of these bags? Never mind. These are nothing but specially designed diaper bags that accommodate a lot more than the diapers. Going out with a baby is never a stress if you own one of them. Easy to understand, pushing a stroller or carrying a car seat is a lot easy with these backpacks.
Best Backpack for Moms
Just like your vanity bag, these backpacks come in a variety of styles and sizes. However, what common in all of them are multiple pockets, separate insulated chambers for holding bottles and a detachable changing pad.
Let's take a closer look at the parents' most favorite 7 such backpacks.
Bag Nation Diaper Bag Backpack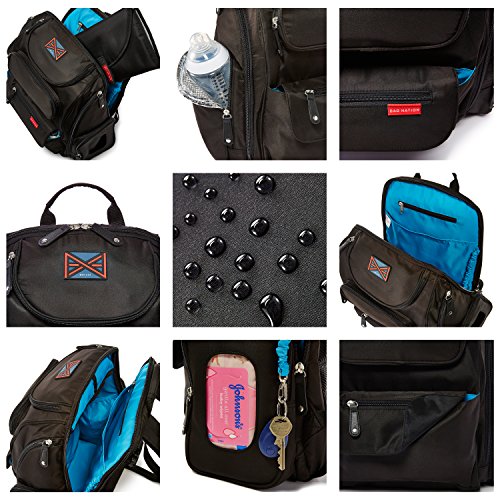 Go handsfree! Bag Nation supports you with a reliable diaper backpack. Not only diapers, but the backpack accommodates your baby's all other essentials e.g. food, water bottle, clothes, toys etc. equally well.
Further reasons to rejoice! The manufacturer is giving lifetime replacement warranty. Not to mention company's 24/7 customer support.
No matter, if you're a parent or a babysitter, take the baby out worry free. From a day outing to long flights, this is the ideal backpack that helps you organize all of your baby's accessories.
Special Features:
It is made from non-toxic, water-resistant material.
The bag can be easily hanged on a stroller with the help of the stroller strap.
The shoulder straps are padded to ensure carrying comfort.
Moms Who Purchased This Backpack Said: 
It is a spacious bag with useful compartments.
Not only moms but dads find the bag equally useful.
The straps are long and tough. You can wear it as per your convenience.
Wide Open Designer Baby Diaper Backpack By Moskka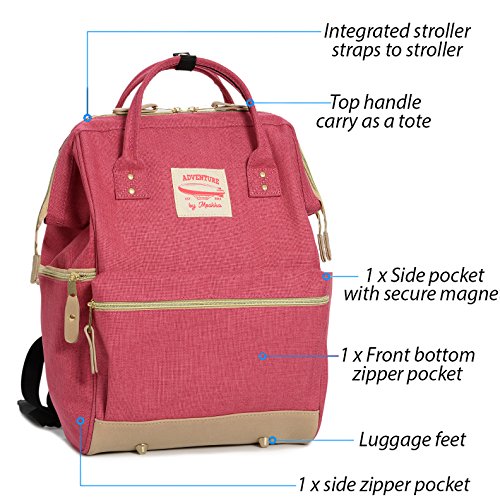 The innovative backpack is out for today's smart parents. This diaper backpack from Moskka is ideal in shape and size. A material that is easy to carry and an inner design that keeps thing well-organized – you can now plan your first holiday with your little bundle of joy.
The backpack is designed keeping in mind a parent's convenience. You can even open this bag single-handedly, holding your infant in the other hand. It opens wide enough and in no time you locate the thing you need.
Special Features:
It is made with lightweight canvas material and even a petite mom can carry it easily.
There is a special pocket for your valuables e.g. tablet.
The bag has luggage feet. Because of the luggage feet, the bag stands on its own even when empty.
Moms Who Purchased This Backpack Said: 
You can either use it as a backpack or you can hold it with handle.
You can carry different sizes of bottles in this bag.
The look of the bag in terms of colors, zippers, straps and handles is totally classy.
Ferlin Multi-function Baby Diaper Nappy Bags Backpack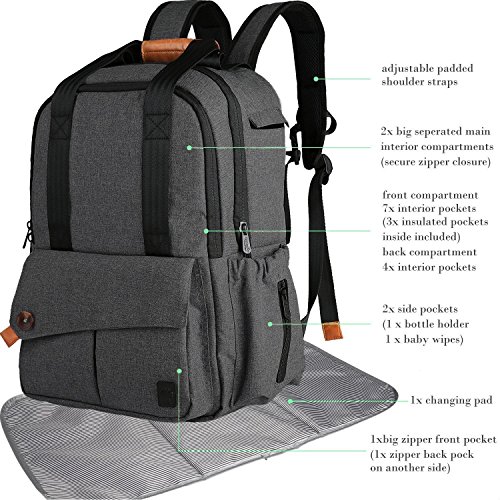 Fashionable, convenient and affordable! Ferlin nappy bag is indispensable for newborn parents. The bag looks equally good on men and women.
You can easily organize a full day's baby accessories in the bag. Still, there will remain places for food, drinks, used nappies and wipes. Hand wash is best for this bag. Is the baby already grown up? Use this backpack as your fashionable laptop bag.
On this bag, 185 days manufacturer warranty is available. You can even return it within 50 days from the date of purchase.
Special Features:
The bag is made using water-resistant garment fabric.
In addition to baby essentials, the backpack easily accommodates parents' stuff like sunglass, phone charger, books etc.
The bottom is such that it stands straight on the ground.
Moms Who Purchased This Backpack Said: 
This is a must have for active families.
Apart from parents, nanny, granny or any other caregiver can use it while taking the baby out.
It fits easily under the seat while traveling by train or plane.
Diaper Bag Backpack With Baby Stroller Straps By HYBLOM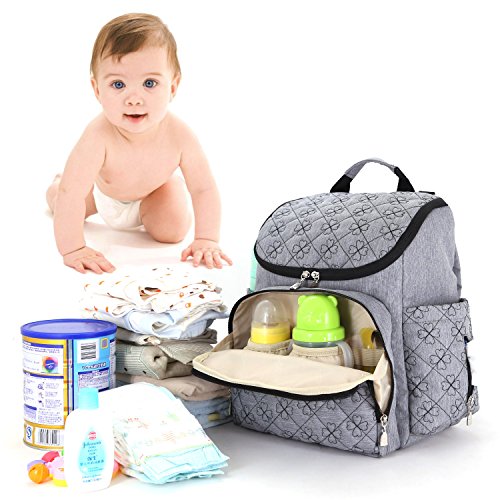 Designed to serve long, these backpacks are to save the time and energy of a new mom or dad. A long holiday, a weekend trip or a day outing in the city, without this, you are likely to witness a chaos.
There are zipped pockets where you place the essentials like diapers, medicines etc. In other compartments, you can easily fit toys, bibs and much more. For bottles with liquids, secured pockets are there.
You can rely on them not to torn apart in the middle of your journey. You also get to enjoy the 90 days money back guarantee.
Special Features:
The bag gets cleaned in minutes.
The shoulder straps can be easily adjusted to suit the person who wears it. Even plus size parents can use it without any hassle.
The bag comes in gray color highlighted with black zippers.
Moms Who Purchased This Backpack Said: 
The bag never slips your shoulder when you bend to look at your baby.
You don't need to carry a bottle bag separately.
This is the ideal backpack to send baby accessories to the daycare.
HapTim Multi-function Baby Diaper Bag Backpack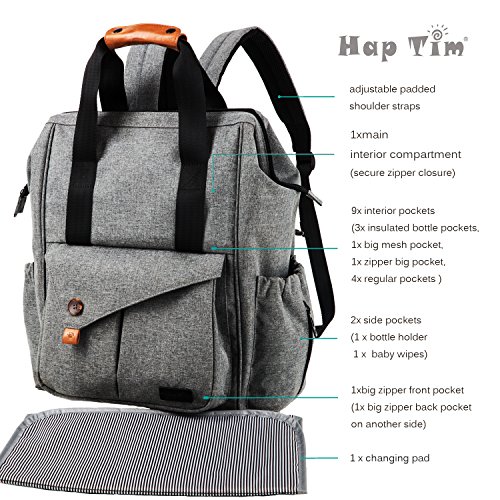 There is no better way to enjoy the outdoor with a baby than packing her essentials in HapTim diaper bag. There is no harm in calling it spacious, fashionable and worth its price.

The pockets and compartments add to your convenience and help you organize baby items better. There is also a number of handle and straps that take care of the comfort of the carrier.

Still thinking? Don't you want to take advantage of 185 days warranty and 50 days free exchange option?

Special Features: 
The backpack is made from best quality Nylon with PU back coatings. Sturdy zippers are used in the bag to secure a higher level of durability.
The size of the backpack is 16.5" x 16.5" x 7.9". There are 13 pockets in it.
There are insulated pockets that help to maintain proper temperature for baby's food and drinks.
Moms Who Purchased This Backpack Said: 
The metals bars inside the bag help it stay open during loading and unloading.
The design is unisex.
The top zipper opens up to a large compartment. So, you need to recollect every time where you have placed a particular thing.
Lekebaby Baby Diaper Backpack Bag for Mom and Dad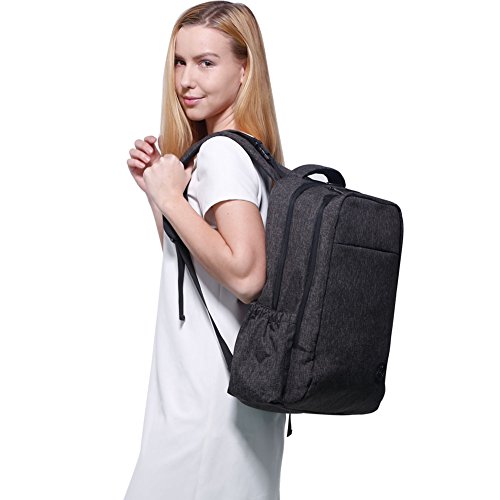 If you are looking for a decent backpack to carry your infant's stuff, consider buying it from Lekebaby. Not only that it looks good on new parents but offers them ultimate convenience and comfort.

It is big enough that you can carry all the essentials; it is small enough that it doesn't hurt your back and shoulders.

You're surely not going to complain about the quality. Still, to let you buy worry free, the manufacturer is offering 185 days warranty. Free of cost exchange is also possible, within 50 days from the date of purchase.

Special Features: 
The material is water-resistant polyester.
Padded shoulder straps and back panel offer extra cooling on hot summer days.
It also holds parents' stuff like smartphone, notebook etc.
Moms Who Purchased This Backpack Said: 
If you're taking a baby and a toddler out, the bag is going to accommodate all of their essentials well.
This is the best backpack to perform papa's duty.
Hanging it is easy, whether in a stroller or in a shopping cart.
All in One Multifunction Backpack Diaper Bag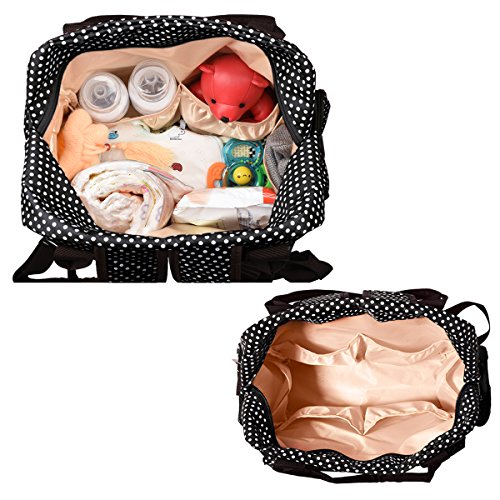 Giving good competition to all the 6 diaper backpacks above is the multifunction backpack from MiYo. Not only is it affordable but is a great organizer of a baby's essentials. Outing with the baby is not a stress anymore!

From bottles to toys, from diapers to medicines, everything you can carry in this single backpack. It weighs light when you carry and maintains balance when you place it on the ground.

Dad feels shy carrying the diaper bag? This is a unisex backpack that both of you can use interchangeably. Buy it from authentic sellers to enjoy lifetime warranty and after sale service.

Special Features: 
The bag is machine washable.
It is made from water-resistant Oxford fabric, which is eco-friendly and easy to clean.
In addition to the changing pad, the package includes one cross-body strap and two stroller straps.
Moms Who Purchased This Backpack Said: 
The price is reasonably low compared to the functionality of the bag.
Nothing to worry if the baby spills or vomits on the bag.
The backpack can also be used as a shoulder bag.
Conclusion – Buying One of These Best Backpack for Moms

No need to sacrifice holiday fun because of the newborn. Buy any diaper bag from the list that you think is the best backpack for moms and head towards your dream destination!

Is your best friend having a baby shower? You know what to gift her on this occasion.