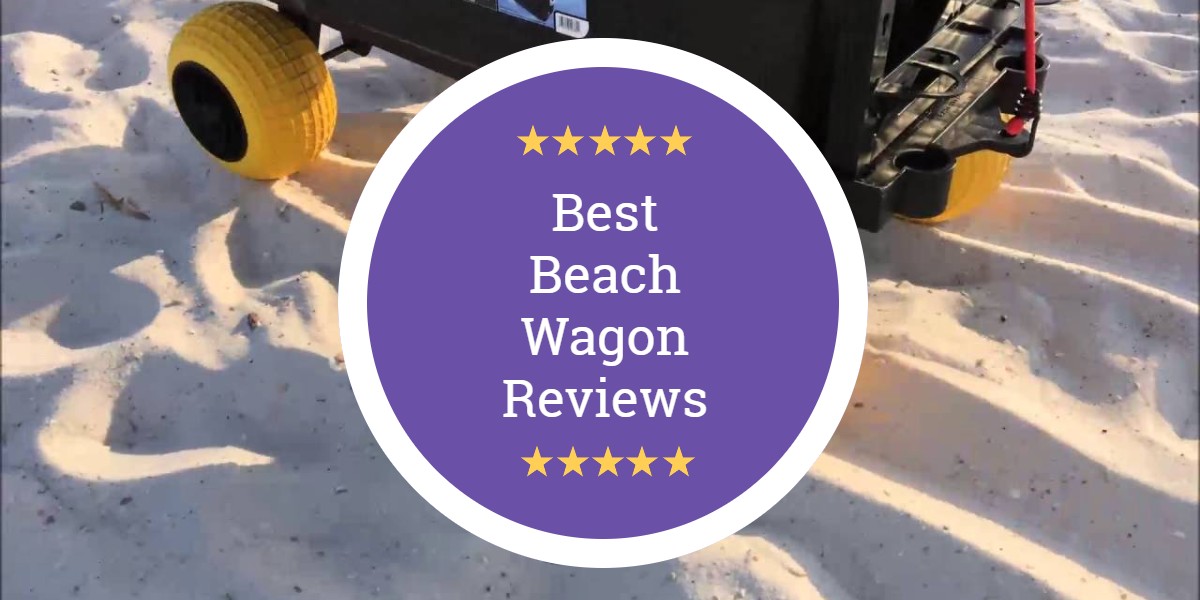 Is it getting difficult to carry all of your beach gear in your hands? What would you do if all your outdoor gear is too heavy to carry? It becomes a big issue to carry it all for outdoor sporting events, beach concerts. It gets so difficult to carry all the stuff right from the parking to the beach with that beach sand making it more difficult to walk. If you are facing all these issues then you are about to explore some of the best beach wagon to share your load.
Best Beach Wagon Reviews
A beach wagon is your best companion this summer. It's easy to let the good times roll with these beach wagons. They are designed to carry your umbrella, extra bags, beach chair and more in which you can also keep your insulated cooler tote that keeps drinks cold and fresh.
Beach wagons generally last for a long time and are very low maintenance. Getting a beach wagon this summer is the best way to bring the party to any shore.
We have shortlisted the best beach cart available on the internet and hope that you find our best beach cart reviews helpful.
Mac Sports Heavy Duty Collapsible Folding All Terrain Utility Beach Wagon Cart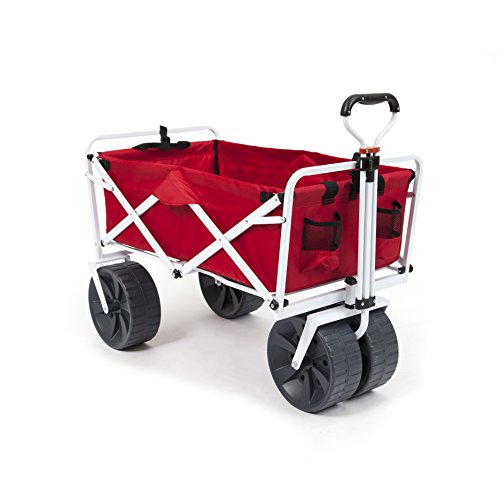 The Mac sports heavy duty wagon is perhaps among the best wagon for beach available today. Mac sports beach wagon has huge capacity to carry almost all of your beach gear without cluttering it. It opens to approximately 36.2″ x 21.4″ x 24.6″ which is larger than most beach wagons available in the market today. It does not require any assembly and can be set up within a few moments, and hence is a great buy for anyone who knows how to turn a screw!
This wagon has convenient foldable storage design which folds to only 9.7″ thick. This will cut off lot of space in your car and is a very good option amongst the foldable wagons. The folded size is approximately 31.5″ x 21.4″ x 9.7″.
It includes a carry case as well, for ease of transport. It has two mesh cup holders which keep your beverage secure, thus enabling you to enjoy your beer or drink wherever you wish to.
It also has an adjustable handle for effortless transport, which enables people of varied height to use it without any issues. The Mac sports wagon is not heavy in weight but is made of heavy duty frame which allows loads up to 150 lbs. Easy transport is not an issue now. Extra large wheels are provided to ease up hauling all your stuff on the beach, to the concert or a football game. The extra large wheels are much easier to traverse the uneven beach sand and ensure that you don't have to put too much strain while dragging the wagon- in fact, it is easy enough for even a kid to drag along, making this a hit with the tiny tots as well!
Another aspect which adds to it is that the colors available are red, blue, black, grey, which satisfies the palates of both the understated and the extravagant!
Pros:
Larger than most other beach wagons.
Extremely easy to set up.
Adjustable handle to suit every height.
Cons:
It might be a bit too large for some people and the storage space it takes up is slightly more than other offerings from competitors.
TimberRidge Folding Camping Wagon/Cart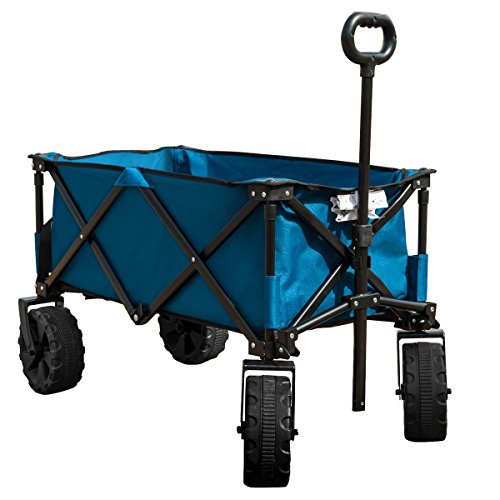 The quest for the best beach wagon brought us to the TimberRidge Folding Wagon. The Timberridge folding camping wagon is a sturdy masterpiece and is one of the top notch wagons available in the market for this price. It dimensions are 35.5″Lx18.4″Wx12″H. The length of handle is 31.5″. From ground to the top of the handle is 35".
Normal walking itself on the beach feels like 15 min of exercising, carrying a heavy wagon adds onto the weight one has to carry. This wagon provides more comfortable and stable user experience, and feels like you are dragging a very light toy along with you. But don't get fooled by its seeming weightlessness, since it can hold up a lot of weight. Weight capacity of this wagon is unparalleled. Camping wagon supports up to 150lbs on hard surface and 110lbs on sand beach. It has a really sturdy Steel Frame with large wheels having 8″ diameter. It has rotatable front wheels and a telescoping handle which provides easy control and eased off movement for most terrains. The package dimension is 30"x16.5″x8.5″ which is one of the smallest sizes available. It takes up minimal space and is easy to carry as it can be folded into a carry bag. Another aspect which sweetens the deal is that the wagon comes with a 1-year manufacturer's warranty.
Pros:
Telescopic handle provides a lot of comfort.
Takes up minimal space in folded condition.
Comes with 1 year warranty.
Cons:
It seems a bit flimsy for its size and can sometimes face problems on rough terrain on beaches.
31″ Collapsible Folding All Terrain Beach Cart Wagon with Cover by Trademark Innovations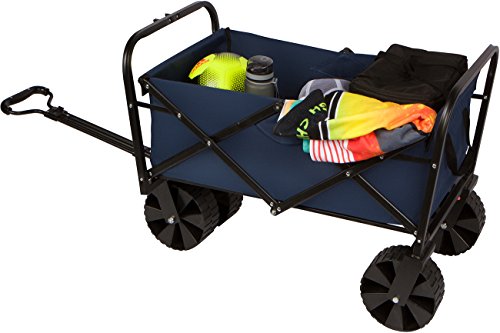 Sometimes, a product comes along which really redefines the entire market with its features and breakthrough, out-of-the-box thinking. Trademark innovations have introduced a beach wagon measures which measures 31″L x 26″W x 18″H. With its enviable spacing, it seems just right to drag along for a family outing on the beach.
The folded dimensions are 32″L x 20.5″W x 4.5"H. It is made of steel tube framing and durable 600D oxford which makes sure that it is as strong as it looks and can easily take all that you can afford to carry with you and a lot more. Its weight capacity is of 150lbs. It also has an adjustable handle that locks into place to ensure that anyone can use it, irrespective of height.
In this case, durability sure does rule the roost!
Pros:
It has huge carrying capacity.
Great design ensures that despite the4 big size and heavy weight, it is still comfortable to use.
Extremely durable and can be used for rough terrain as well.
Cons:
Even though it provides several features, the size for storage may be an issue since it is very long when packaged, even if it is slim.
Wonder Wheeler Beach Cart – Ultra Wide Wheels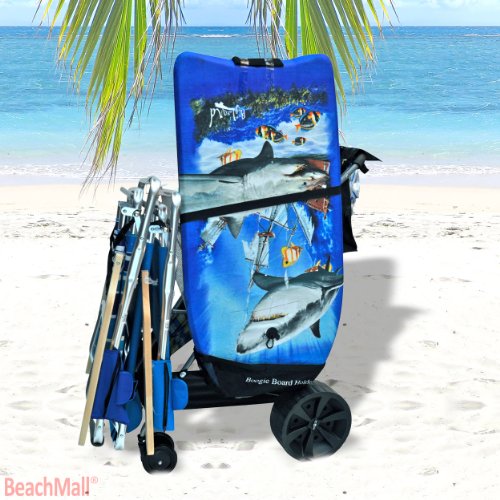 Wonder wheeler has introduced a beach cart which is more comfortable than ever before!
One of the major features of Wonder wheeler beach cart is that, it has ultra wide wheels which would not sink into the sand. Its folded dimensions (inches) are 37H x 16W x 8D. Its fit for travelling purpose too as it can be folded flat to store safely and easily. It has pivot wheels in the front which are best for easy navigation. It is one of the lightest weighing beach carts and weighs in at 12.8 pounds.
Its pen dimensions (inches) are 39.5 H x 16 W x 28.8 D. The chair Hanging Bar width is of 16.5 inches. This beach cart's frame is completely assembled. You just have to snap on the wheels which is extremely easy to do. You can mount an umbrella in the built-in holder available on the cart quite easily as well. It has a large cargo area which will have enough of extra space even after mounting up to 4 chairs and a large Cooler. The weighing Capacity is 77 Lbs.
The biggest advantage is that it has wide rear wheels with a large diameter of about 10″ and about 4″ width which allows the wheels to roll easily even on the softest of sands.
This is one wagon which has definitely tried to cater to the solo beach-goer or couples who do not really like to carry too much to the beach, but need the comfort and durability that comes with more expensive wagons. It is a treat to use with the huge wheels which make it feel like an SUV on the sand!
Pros:
Ultra wide wheels for great stability and ease of dragging across loose sand.
One of the few good options for solo beach goers who want functionality more than storage.
Cons:
Can't carry too much weight and is not practical for families.
Mac Sports Collapsible Folding Outdoor Utility Wagon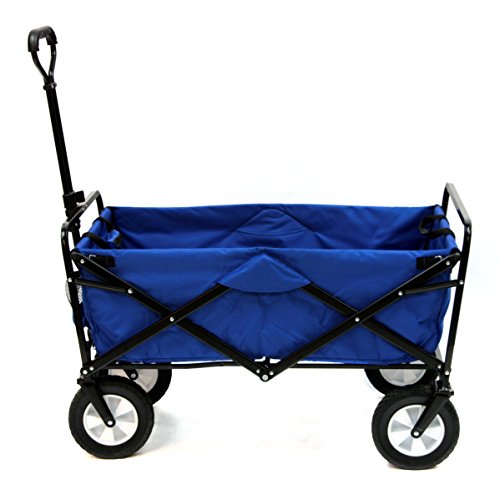 We have tried our best to ensure that we satisfy people with different tastes and requirements while listing our reviews for the best beach cart. In our quest, we chanced upon the Mac Sports Collapsible Outdoor Utility Wagon.  It is a fairly sturdy wagon with outside dimensions of 35″ x 20″ x 23″ and fairly spacious inner dimensions of 32.5" x 17.5" x 10.5". This ensures that you aren't lacking for space to carry what you wish to.
The best part of this beach wagon, however, is the fact that it does not require any setup or technical skills to operate at all. It is quick and convenient to set up and start using.
It is also very convenient to store and folds up into a space only 8 inches thick. The folded size of the wagon is approximately 29.5″ x 20″ x 8″. It also comes with a carry case to further improve the convenience with which you can store and transport it.
The heavy duty frame ensures that you can carry a load of up to 150 lbs, and the durable material- 600D fabric ensures that you can easily clean it up after a rough use as well. It also comes with an adjustable handle that allows person of any height to use it without putting any strain on the posture at all. The two cup holders also allow you to conveniently carry your beverage along to a secluded place on the beach if things get too noisy for you.
It is the perfect beach wagon for hauling gear to Outdoor Sporting Events, Concerts, Trips to the Park or Beach and great for use around the house
Pros:
Can be setup by someone with no skill with mechanical parts.
The cover helps to keep it safe when its bundled up for storage.
Has 2 cup holders as well.
Cons:
Though it is a good wagon, it does not really bring anything new to the table and is fairly monotonous.
Conclusion:
Overall, we have attempted to cover a wide range of products to provide you with a choice so that you can make an informed decision while purchasing the best beach wagon for your purposes and requirements.