5 Best Cooling Hats Reviews – Buying Guide 2020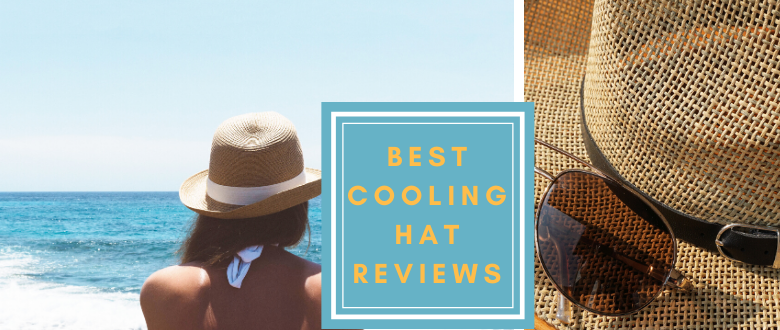 Cooling hats are a must-have in most wardrobes, and they are usually there for a reason. When its summer and the sun is scorching hot, you need to shield your face and body from the UV rays that have been known to cause damage to your skin.
There is nothing worse than being sunburnt and it really hurts. You can't even smile or enjoy your holiday when your skin is peeling off. In addition, it doesn't look good at all. You will need to see a doctor and stay indoors until you heal.
Well, all this can be avoided simply by using a cooling hat.
Top Choice: Ergodyne Cooling Ranger Hat 8935CT
This is one of the best hats for protection against the strong UV rays, and the most reasonably priced as well. It is a top choice because of its functioning. It is lined with an evaporating PVA material that is breathable and works very fast at cooling you when it's hot.
It has an almost 5-star rating, and it will work extra fast to cool you down on a hot summer day. You can use it for at least 4 hours before it needs to be wet again for additional use. This makes it perfect for a hot summer day.
Best Cooling Hat Reviews
So lets find out, what is the best cooling hat that you can use in hot weather.
---
1. Ergodyne Cooling Ranger Hat 8935CT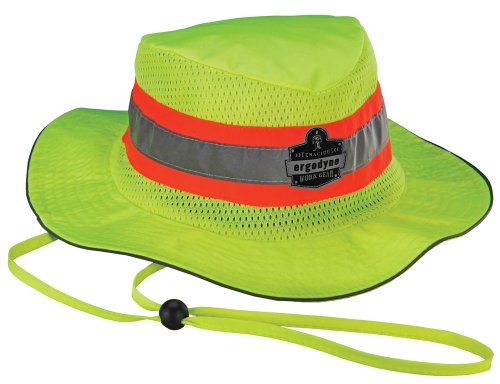 This hat comes in beautiful red and green colors, and it offers you a long lasting and cooling effect when it's hot outside. Ergodyne Company has come up with a hat for everyone.
Other features:
Long-lasting cooling relief: this hat can last up to 4 hours with a single soak. You simply need to re-soak if you want to increase the duration. The vented mesh on the side panels also helps to increase the airflow under the hat and makes breathing easier.
Ease of use: This hat is very easy to use, and all you have to do is run it under the water for at least one minute, and then twirl it in the air, and it is ready to make you cool! Wear it as temperatures keep rising for a dip-free and cooling relief.
Wide brim: These are important if you want complete protection and shielding from the sun. The rims of this particular hat are wide enough, and they will help you gain protection, nor just for your face, but your entire body from the sun.
Durable: this hat will last a long time because it is made of high-quality materials. In addition, it can be reused over and over again. All you need to do is let it air dry, where the material will get stiff. After that, re-wet it until it is soft and ready to use.
High-visibility: this cooling hat is made of ANSI which is a certified polyester material and comes with a reflective tape, which adds visibility protection when using the hat.
Pros
Reasonably priced.
Durable and long-lasting.
Easy to use.
Re-usability makes it economical.
---
2. Columbia Unisex Bora Bora II Booney Hat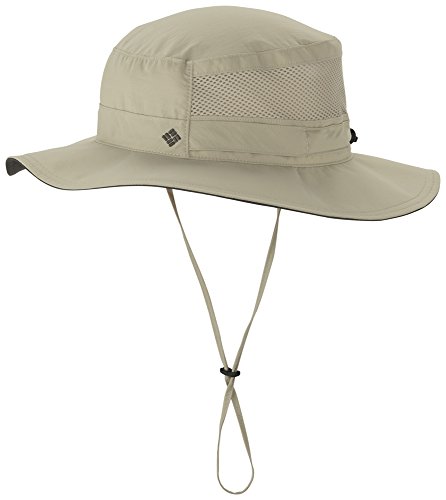 Why would I recommend this hat?
I highly recommend this hat because it is made of 100% textured nylon poplin material that is lightweight and easy to use. In addition, this material ensures that you are well protected against heat from the sun.
Other features:
Advanced technology: this hat has the Omni-wick fabric that enhances sweat-wicking capabilities and also has the Omni-shade UPF 50 technology which helps to block up to 98% of the most harmful UVB and UVA rays.
Excellent handy features: it also has a mesh vent that is breeze-inducing and helps to keep you protected and cool during those long hours in the outdoors.
Adjustable features: it comes with a drawcord that is adjustable and has a toggle at the back. This fits comfortably and snugs perfectly.
Pros
Easy to use.
Adjustable features.
Reasonably priced.
Breathable.
Cons
The brim is floppy and the fit is too large.
---
3. Home Prefer Men's UPF 50+ Sun Protection Cap: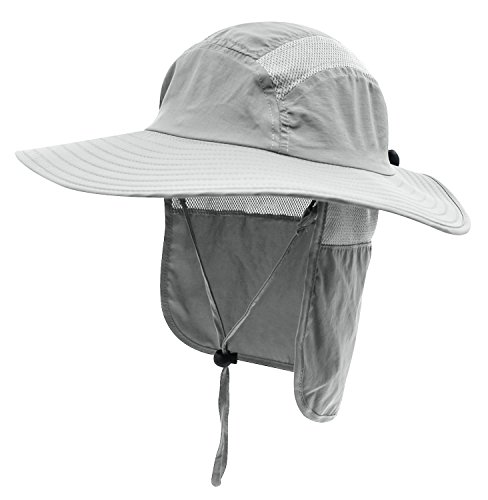 Why I would recommend this hat:
This hat has a unique neck flap that you shall not find on others. Well, it doesn't look very nice, but if you want to offer extra protection for your sensitive neck, then this is the right hat for you.
Other features:
It is made using premium polyester material, which is extremely breathable and quick drying. This also means that this kind of hat can withstand even strong rains and extreme weather conditions.
It is lightweight and comfortable to wear, and the chin strap is removable, which makes it more versatile compared to other types of hats.
It has wide brims that have mesh in them, and this is useful for cooling airflow that comes around the crown of your head.
It comes with a UPF 50+ which is the ultimate for sun protection. You can use this hat when you go fishing, hiking, gardening, cycling, and camping.
Pros
Reasonably priced.
Has an additional neck flap.
It is comfortable to use.
It can be used in a wide variety of activities.
Cons
The size is a little big.
---
4. LETHMIK Fishing Sun Boonie Hat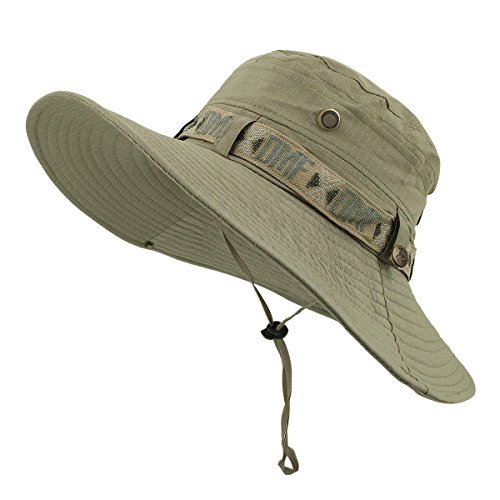 Why I recommend this hat:
This is the "SAFARI" hat. If you are going on safari, you will need to own this cooling hat. I highly recommend it as it's designed for that specific purpose, and in addition, it is made of high-quality and extra comfortable waterproof polyester, which means that you can use it even when it rains.
Other features:
It is stylish: Most of these hats are not stylish, but this LETHMIK fishing hat is made with a sleek style that makes you look good while watching animals. The quality is high and comes in a great design.
UV protection: It is designed to protect you from the harmful UV rays. This hat has a UPF 50+ rating with excellent sun protection.
Size: it is a one size fits all kind of hat, which means that you do not need to look for your ideal sized. The hat shall fit everyone that uses it.
It is foldable and crushable: Because it's made of high-quality polyester material, you can be able to fold it and keep it in your bag while traveling on your safari. It is also available in many different colors for you to choose from. This makes it super convenient to carry wherever you go.
Pros
It is designed with high-quality materials.
It protects you from sunburn when you go on safari.
It has a mesh that will ensure the harmful UV rays are kept at bay.
It is foldable and crushable for traveling.
Cons
This hat is not machine washable.
---
5. Wipkal 2019 2 Pcs New Cooling Hat: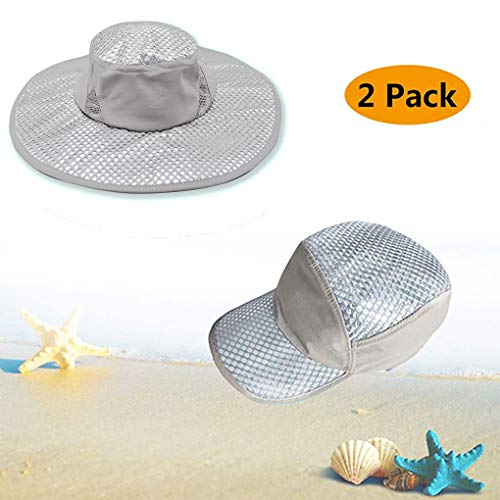 Why would I recommend it?
Well, first of all, this comes in a pack of 2 hats, which you will certainly appreciate, and in addition, it has to be the best looking cooling hat on the market today.
Features:
Made of premium nylon: This is a good quality material that doesn't allow any UV rays to penetrate and reach your skin. In addition, it will help you feel cool during summer.
It is foldable: this makes it easy to carry from one place to another, especially when going on holiday. Most hats are made of straws which makes them bulky, but you will appreciate how lightweight this Wipkal hat really is.
Hat heatstroke: It covers 99% of UV rays, and in addition, it comes with an evaporating cooling liner that is usually activated when you put it in water.
Easy to use: All you've got to do is wet it a little and you are good to go. It will keep you cool throughout the hot season.
Ideal for: you can use this hat when you go camping, touring, hiking, boating, etc.
Pros
Easy to use.
Made of high-quality materials.
It is durable and long-lasting.
Covers up to 99% of UV rays.
It is ideal for most outdoor activities.
Cons
It can be a little big for most people
---
The Definitive Cooling Hat Buying Guide:
When looking for the best cooling hat, you will need to consider a few factors, which include;
UV protection:
A good hat should have some UV protection, which helps to protect your skin from melanoma, and also protects your eyes from cataracts. Advanced aging and skin damage can be caused by UV lights, and therefore, look for a hat that has UPF and SPF ratings.
UPF – this means Ultraviolet Protection Factor. It measures the amount of ultraviolet radiation that could possibly reach your skin after it has penetrated through your clothing.
SPF – this means Sun Protection Factor, and it is usually found in sunscreen, creams, and cosmetics. It measures the time it takes for the protection to wear off and your skin to begin to redden before it burns.
The fabric of the hat, which means the tightness of the weaving material and what it's made from plus the color of the hat will all affect the UPF.
Color:
Color matter when it comes to cooling hats. Light colors are good for reflecting the UV rays, and therefore a nice white, beige or cream hat would be an excellent choice. Other colors that you can consider are grey, tan, or light olive.
If you choose a light color, however, do not be afraid to include a splash of other beautiful colors at the band of the hat or at the rim, as this adds some more style. Ensure, however, that the main hat color is bright.
When you choose a dark color such as black, it will absorb the heat and make your head extra hot instead of cool, and this can give you heat-related headaches.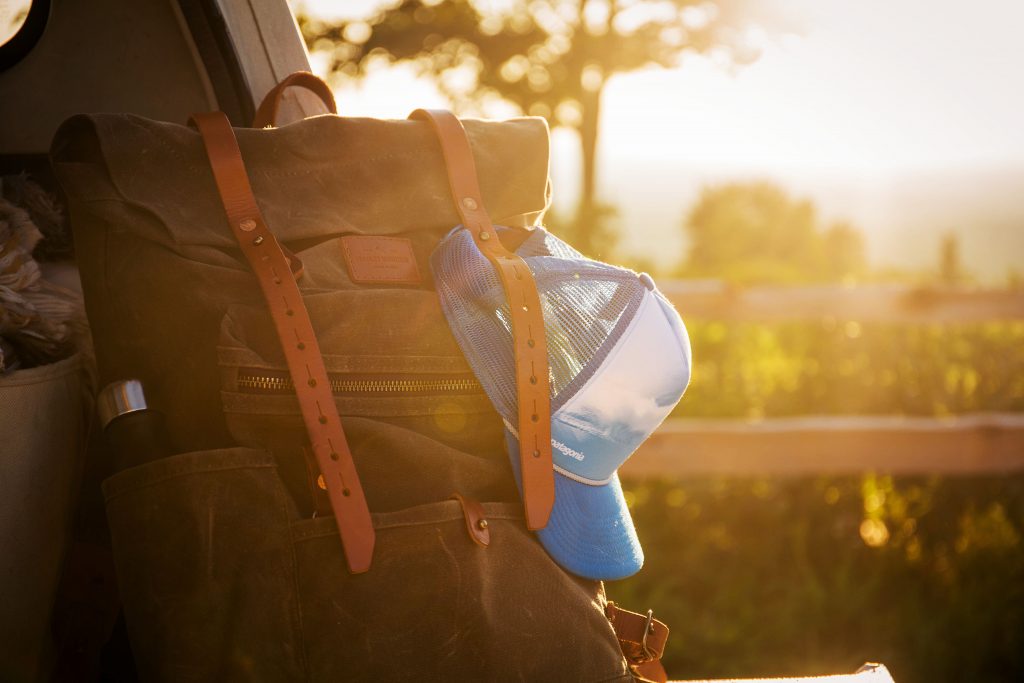 Weaving tightness:
The tighter the weaving, the better for you. Floppy straw sun hats with big holes in them look good but they let in a lot of moisture and allows the sun to penetrate which will result in less protection for you.
For very harsh climates, choose a hat that has a tight weave and a decent UPF rating for protection. Most manufacturers should include this UPF rating when describing what the hat can do, and so, it is always advisable to look at the description so you know what you are getting.
Material:
In this regard, you shall need to look for a breathable material that is tightly woven. This makes the best sun protection hats.
Cotton or cotton blend materials are the best, and also polyester. These are comfortable materials that can be worn all day long, and they are available in all colors, plus they are lightweight as well. In addition, they are crushable and foldable, which makes them easy to pack.
Straps:
Having adjustable straps and cords to help you pull and tighten the hat around your head is always a good idea. In addition, you should have a chin strap that will help your hat stay right there with you and not fly off when there is a strong wind. This way, you can even have it on a boat or the side of a mountain cliff.
Don't even worry about looking dorky in your hat, as most good hats for sun protection have straps nowadays, and every smart human being either on tour or just basking in the sun will be wearing one. You can also choose to tuck the strap inside the hat so it is not visible.
Coverage:
According to the Skin Cancer Foundation, they recommend that your hat should be at least three inches and above in wideness so it can shield you from the sun. This is a wide enough protection for your face, ears, and neck.
Moisture-wicking:
Most good cooling hats will come with a moisture-wicking lining that helps draw sweat and water away from your face and head, so you do not end up with a rash or becoming uncomfortable. This is definitely a great feature and one that you should look for when buying a cooling hat.
When you go swimming and you put your hat over your wet hair, it shall draw it up and away from you.
Packability:
A good hat should be crunchable, foldable and compressible when you want to travel with it. It is important to always have a cooling hat when traveling to high humidity areas, and areas that are likely to be hot during your stay there.
It is, therefore, a good idea to have the type of hat that will make it easy for you to carry it along in your luggage, and ball it up like a newspaper.
The good news for you is that most of them have these qualities and they can fit perfectly in one of your bags.
Intended use:
They type of hat you buy should also depend on the type of activities you are planning on taking, such as hiking, fishing, lounging, boating, sightseeing, etc.
If you shall be hiking, around clifftops and zipping in between islands on a boat, then, you need a hat that shall stay on your head when there are strong and high winds and hence you do not need a chin strap or a headband or a tightener built into the hat.
However, if you shall just be chilling at the beach and swimming during your vacation, then a simple cooling hat will do, but ensure that you have a good quality sunscreen to help protect your skin.
FAQs
What does UV mean?
This stands for Ultraviolet radiation, and it comes from the sun. There are many types of this radiation, i.e. UVC, UVD, UVA, and UVB.
UVD and UVC cannot penetrate through to the ozone layer of the earth and so they are not harmful to your health, but the UVA and UVB can in fact penetrate. They are harmful and can affect all life on the surface of the earth, not just human beings.
What is the difference between UVA and UVB?
UVA penetrates the first two layers of your skin and goes all the way to the subcutaneous layer that is found under your skin. This is why they are so harmful and have the ability to damage your skin DNA on a cellular level.
UVB however, is not as strong as UVA and only penetrates your epidermis, i.e. the skin that you touch.
Why do these rays cause sunburn?
Your body's reaction to the UVB rays is what causes the sunburn. The UVB lights damage your skin's DNA and this results in a terrible look which we call sunburn.
They are a form of radiation that is capable of burning the skin from the solar. If you stay out in the sun for a long time, depending on the type of skin you have, only 15 minutes are enough to cause it to burn. The sun is an organic, natural source of UV radiation.
However, all sorts of UV radiation can be harmful to your skin, and this includes those that are radiated by things such as tanning lamps, welding arcs, etc.
Is sunburn a disease?
Yes. This is a condition that will require medical attention. You shall experience headaches and dehydration as the most common symptoms. In severe cases, you may feel nauseated as the body experiences what is called "first and second-degree burns."
Can a cooling hat really protect you from sunburn??
Yes. A cooling hat can, and does protect you from sunburn as it is designed for that particular purpose. In addition, they have been made to deflect the sun's rays away from your skin and body, which ensures that you do not suffer from any sort of burns on your skin.
You should invest in a good quality hat that shall ensure you are well protected if you are going to spend time in the outdoors, and especially places where the sun is very hot.
Most people choose holiday destination due to the amount of sun they wish to enjoy, and so, we advise that whenever you are going on holiday, consider having a good quality cooling hat with you.
What are the reasons why you should protect your skin from the sun?
Sunspots:
These are also known as solar lentigines and usually, they are caused by too much sun exposure. They are brown flat spots that show up on your body, which had been exposed to the sun. Once you have a sunspot, it will start getting darker and darker the more you spend time outside.
Skin cancer:
This can easily be avoided by taking proper care of your skin. Do not overdo the sun, and avoid direct UV exposure. One common skin cancer condition is Melanoma. This is a dangerous type of cancer that can definitely lead to death.
Damaged skin cells:
Too much sun is bad for your skin cells. This is because UV cells damage and even kill your skin cells. The top layer of your skin can actually be destroyed by a very mild sunburn. This is bad for you, and you need to protect your skin from all forms of sunburn.
What are some sun protection tips?
There are many ways of protecting your skin from the harmful rays of the sun. Here is a video with 6 tips:
The key tips you can use to offer protection to your skin;
Do not overexpose your skin to the sun, in fact, limit this as much as you can. The sun's rays are most harmful between the hours of 10 am and 4 pm. During these times, ensure that you do not go near the sun at all, as it will cause you some damage.
Pay close attention to the UV index if you are going to spend some time outdoors. This is usually given as part of the weather report.
Wear cooling hats and long-sleeved clothes that will shield your face, arms, and body from the sun's rays.
Conclusion
Going on holiday is always great, but if you plan on vacationing without the necessary equipment such as a cooling hat and of course sunscreen, you will end up regretting the whole holiday idea altogether, and probably come back with some badly burned skin.
It is always advisable to take good care of yourself if you are going to be spending time outdoors, and this is extremely crucial especially for people with sensitive skin. Using a good cooling hat is one way of ensuring that you receive all the protection you need from sunburn.
Look for a good quality hat that protects against UV rays, and all of the selections we have talked about above will do exactly that.