Best Garage Fans 2020 – Reviews and Comparison
There is nothing as exhausting and unhealthy as working or living over a steamy hot garage area. It is not only uncomfortable but dangerous, especially during the summer when temperatures are high. The heat from the car also makes it worse, making the whole place and its surrounding rooms uncomfortable.
The solution is always simple and that is getting the best garage fan. It is no easy task as some tend to fail or live up to the expectations.
Garage fans are the easiest solution to stuffy garages and the rooms surrounding it. It does not only keep the garage at a moderate ambient temperature but ensures that all the items in it remain stable and unspoiled.
Disclaimer: Some of the links on this site may be affiliate links. This means that we will earn some commission if you buy something after clicking one of these links on our site, at no cost to you.
Our Top Choice: Lasko 2265QM 20-Inch Max Performance High Velocity Floor/Wall Mount Fan
If you are looking for a high quality & durable fan which is made for use especially in garage and workshops, then Lasko 2265QM 20-inch fan is the one you should purchase.
The high-quality material, easy and quick mount design along with metal fan blades and 3 powerful speed control options makes it the best fan to have in your garage.
Moreover, it is easy to assemble and comes with a patented blue fused safety plug and patented fused three prongs grounded safety plugs.
Apart from that, Lasko is one of the top manufacturer of high-performing fans, trusted by our reviewers and thousands of customers all over the United States.
Best Garage Fans Reviews 2020
The garage is often used to store loads of stuff and some can become a fire and health hazard when overheated. So it is ideal to keep it cool throughout, day and night.
Moreover, the more your garage is cool the better your car condition and the best way to cool a garage is to buy one of the best garage fans.
Consequently, do not worry about power as garage fans are always energy-efficient and use very little power. The air flow in and out of it eventually becomes easier and comfortable to work with.
Without further additional text, discover the best garage fan reviews.
---
#1. Lasko 2265QM 20-Inch Max Performance Garage Fan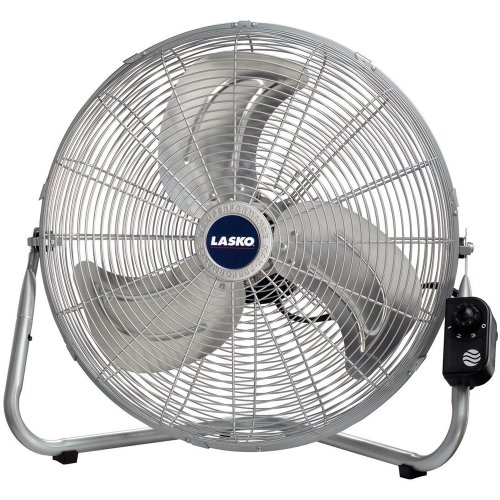 This high-velocity fan is ideal for the garage as you can hang it on the wall or let it run on the floor. It has high velocity and three metals blades that deliver three powerful speeds for maximum air movement in and out of the garage.
You can easily mount it on the wall in its steady one-piece bracket or let it lay on the floor on its rubber pads so as to protect the surface beneath it. It also has a built-in carry handle for convenience purposes and easy portability.
This fan can also pivot for direct air flow. It is a bit loud but very powerful even at its lowest speed.
This garage fan is durable and has tubular steel construction features that ensure its longevity and proper functionality.
It is also affordable and eco-friendly. Clearing up the air for proper usage and comfort all day through the night.
It also ensures that the other rooms surrounding the garage are also properly ventilated. Basically, you just have to mount it at the correct strategic place.
Customers Who Purchased This Garage Fan Said:
It has high-velocity power ideal for use in the garage, moves a lot of air
It is a very strong fan, works for many years. Very durable and quality
It keeps the whole surrounding nice and cool, highly recommendable
Perfect as a garage fan wall mount
---
#2. Stanley 655704 High-Velocity Blower Fan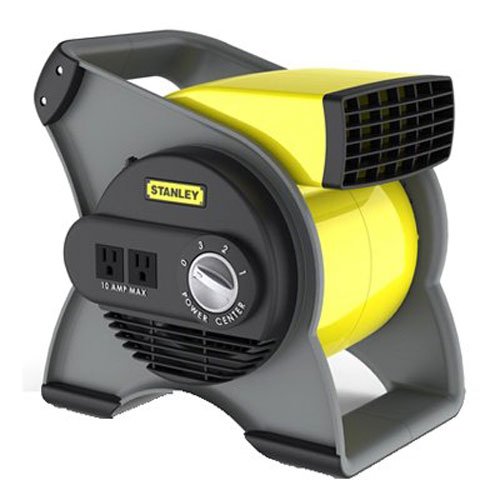 This fan is ideal for closed spaces which need a lot of air circulation. It is best suited for garages, work spaces, attics, and basements.
It is a multi-purpose fan which can be pivoted for direct airflow anywhere. It is also great for drying carpets, floors, walls as well as furniture.
It comes with a rugged easy to carry handle for convenience and easy portability.
Moreover, it offers a very high-velocity power with a quiet white noise. You can easily fall asleep or relax as the fan works it way clearing and refreshing the room. It won't inconvenience anything.
It features three powerful adjustable speed settings that work faster compared to other compact fans like it. In addition to this, it has a circuit breaker with a reset button for safety purposes. It also includes two 120-Volt grounded outlets for accessory use.
This fan is also ETL listed and comes with a patented fused safety plug making it one of the best garage fans.
You won't even have to assemble it as it comes fully assembled and ready to work. You just plug and unplug and put it wherever possible for proper air clearance.
It is an eco-friendly fan and healthy to use in the same room.
Customers Who Purchased This Garage Fan Said:
It moves air efficiently and quietly
It is a quality fan and useful for drying carpets and floors. It has good ergonomics too
It is very impressive and puts out 3 times the regular airflow of a fan twice its size
---
#3. Vornado 293 Heavy-Duty Garage Fan Air Circulator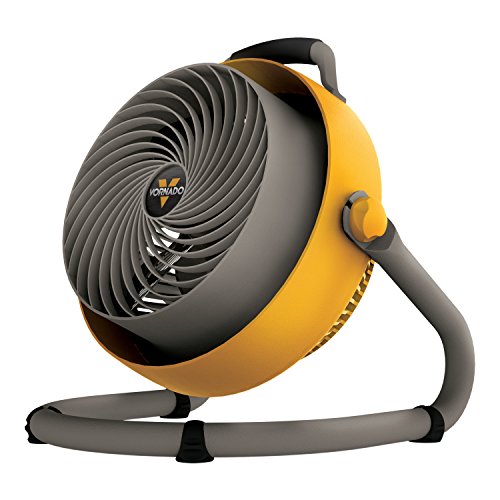 This is one of the most powerful workshop fans. You can use it in the garage, job site or even at the workshop.
It is durable and made for the toughest of jobs from cooling off the garage or industrial items, circulating the air and even drying industrial varnished items.
Moreover, it features a very powerful airflow with three adjustable speed settings that can move air up to 100 feet. It has a high velocity that puts air where it is needed for proper ventilation of any space even the garage.
It is manufactured in a way that its ball-bearing motor never needs any oiling and is specially shielded to resist dust.
You can point it in whichever direction up, down or sideways without causing any damage to it. It has a powder-coated base which allows for its head to be pointed anyhow.
Its carry handle is also comfortable and light on the hands.
It also has an extra long 10-foot grounded 110-120 Volt AC cord with storage capabilities.
Moreover, it is easy to clean. You just wipe its removable grill with a warm soapy cloth.
It comes assembled, with a 5-year limited warranty and meets all OSHA safety requirements.
Customers Who Purchased This Garage Fan Said:
It is the perfect size for any apartment and makes less noise due to its well lubricated and sealed motor
Its air flow is great even for the outdoors, especially the porch
It is multi-purpose. You can use it to dry painted floors and carpets
---
#4. Air King 9020 1/6 HP Industrial Grade Wall Mount Fan – Best Ceiling Fan for Garage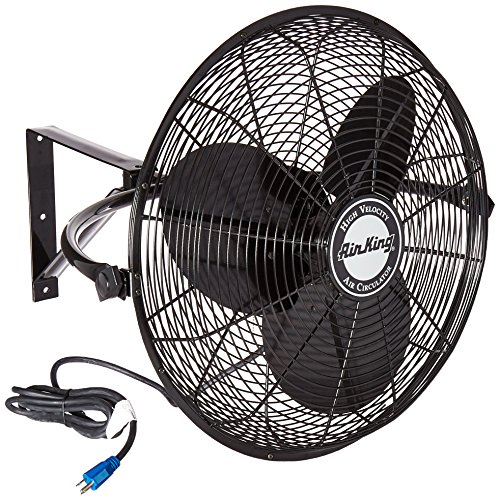 This industrial fan is ideal for industrial or commercial settings. You can use it in the garage, loading docks, warehouse, churches, and health clubs.
You can mount it on the wall so as to save floor or table space. This also allows for easier movement, especially in a busy environment. You won't have to deal with its cord loosely lying on the floor.
It has a powerful motor for proper and instant air circulation and cooling. Moreover, its motor is rated at 120 Volts with 1/6 horsepower and three adjustable speed settings.
Its high-velocity circulation calls for little to no maintenance. You can actually mount it on a wall for years without worrying about its condition.
Consequently, it comes with a 20-inch powder-coated metal blade for proper mount and functionality throughout the years.
It also includes a 9-foot, 3-conductor SJT type power cord that weighs 26 pounds.
It is safe and tested in accordance with AMCA standard 230.99 and is ETL and OSHA compliant. Likewise, it comes with a one-year warranty for defects in materials and workmanship where it is used.
It is top quality and accounts very well for its price. It won't fail in its requirements and expectations. Given that this is an industrial grade wall mount fan, it will last you for a long time.
Customers Who Purchased This Garage Fan Said:
It works well in the garage and does not vibrate even with the three adjustable speeds
It saves loads of floor space as you just hang it on the walls or ceiling
It is very easy to install with various options depending on where you want to mount it, highly recommendable
It circulates easily on the wall clearing air all over
---
#5. Hurricane Classic Oscillating Wall Mount Garage Fan 16 in-736503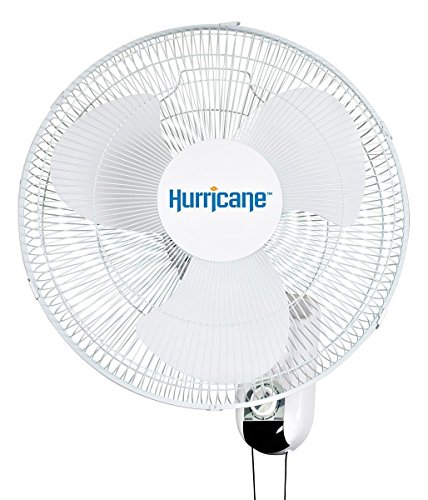 This wall fan can be used anywhere in the house as well as the garage. You can install it on the wall as well as the ceiling. Its mount area saves for more space on the floor and avoids any minor incidents with its 60-inch power cord.
It has a 90 degrees oscillation motion with two convenient pull cord for speed and oscillation control.
Its three-speed motor settings are often controlled by a turn switch.
Moreover, it comes with a 16-inch diameter fan blade for proper functionality throughout the years. It actually requires little to no maintenance.
It is top-quality and has durable steel neck support that never breaks at all and lasts longer after mounting.
You can easily assemble its different parts solo and install it without any problems or minor injuries. The instructions are often easy and straightforward. You just have to mount it in the correct position so as to ensure that it works as required.
It will never fail you in any way nor will it break down even with constant use.
This one from the best garage fans list is a wall fan also safe for use and has zero health and fire hazards.
In addition to all this, it is ETL listed.
Customers Who Purchased This Garage Fan Said:
It pumps out a ton of air and is not even that loud
It is easy to assemble, install and mount and has the perfect white noise
It is high quality and works very well
It is affordable and saves on the heating and air conditioning costs
---
#6. Patton PUF2010B-BM 20-Inch High-Velocity Garage Fan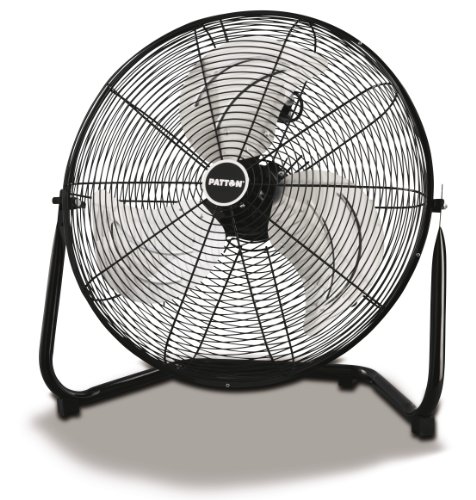 This fan is meant for use in a rugged environment with high reinforced industrial construction. It can work best in the garage as well as workshops where more cool air and ventilation is needed for proper functionality and work.
It comes with an 20-inch metal blade that moves air effectively. The large diameter blades are designed to move a lot of air in conjunction with a super-effective motor. You can actually adjust it the way you want for proper cooling off, ventilation and drying.
It has three powerful adjustable speed settings as well as two prong plugs for easier functionality.
It has a carry handle for easier portability as well as a durable metal front and rear grill. Likewise, its powder-coated finish makes it even more durable and long-lasting. Nothing can break or turn it incapacitated even in the garage.
Moreover, its metal construction built is meant to withstand the harsh and tough environment associated with garage spaces.
You can always mount it where this garage fan works best and set its speed according to your needs. It will never fail you in any way and can function for years without any maintenance or repairs.
It comes with a three-year limited warranty.
Customers Who Purchased This Garage Fan Said:
It is legit and highly functional and saves on air conditioning costs
It puts out a lot of air and is multi-directional
It does what it promises with no fuss, highly recommendable
It prevents excessive sweating while working out or doing some actual heavy-lifting work in the garage
---
Buyer's Guide: What To Look For While Buying Garage Fans?
When it comes to buying the best garage fan you should at least consider one of the following before making the purchase.
The cost and quality– You should always consider the quality of a fan as well as its cost. Is it within your budget.
Where are you going to put it– As much as the garage is big. You should consider if you are going to install a wall or ceiling fan or just a table-floor fan. Garage fan wall mount seems to be working well for many users.
What do you need it for– Its purpose also matter as the garage can be a multi-purpose place from parking to working space
How powerful is it– You should also consider its CFM, which is the volume of air flowing by a given point every 60 seconds.
What features are you looking for– Before making any purchase, you should consider the essential features that you want the fan to have.
Why do you need a fan– You should also think of why you need a fan as opposed to other ventilation and cooling off systems.
Air-flow or noise level– You should also consider either of the two. The quicker it moves air the noisy it is. But some work just perfectly with recommendable minimum white noise.