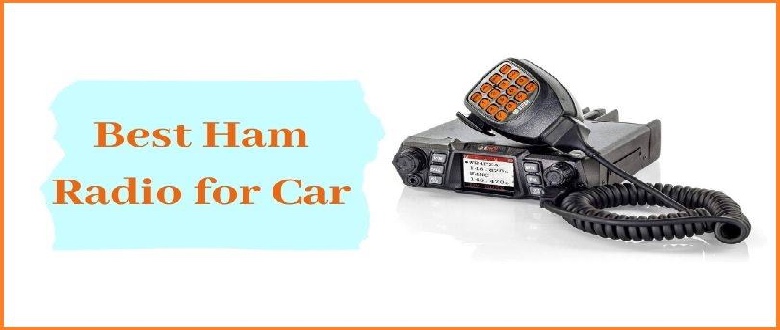 Ham radios are known for their unique ability to help teams communicate effectively. If you are in the market to purchase a ham radio for your car we have complied a list of some of the best ham radios for cars that will pique your interest. Ham radios are also popularly called amateur radios and by definition are always used for private and non-commercial purposes.
If you ever fill the need to communicate with family members or co-workers on the go or while you are driving then you will be better off with a ham radio than any other known mobile telecommunication device.
To avoid the hassles that come with returns and to spare you the headache of going through thousands of products in the open market, this guide highlights the main features, pros, and cons of some of the best ham radios in stores today.
Disclaimer: Some of the links on this site may be affiliate links. This means that I will earn some commission if you buy something after clicking one of these links on our site, at no cost to you.
Top Choice: Radioddity QB25 Pro Quad Ham Radio
Our top choice and perhaps the most positively rated ham radio is the Radioddity QB25 ham radio because it excels in clarity, reception, and transmission.
QB25 is the first in the series from Radioddity and has quickly gotten the admiration of online shoppers who see its advanced features as a step in the right direction towards a better and effective communication system.
Its compact nature places it at the apex of ham radio mobile communication and is best used in conjunction with various vehicle-mounting devices.
Best Ham Radio for Car – Reviews
---
1. Radioddity QB25 Pro Quad Band Quad-Standby Mobile Ham Amateur Radio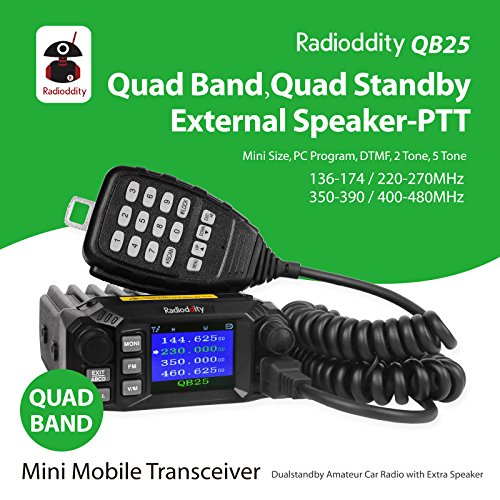 Radioddity QB25 is a quality mobile ham radio packed with numerous features for those who are always on the go. It's not surprising that this model makes it to the zenith of our list of best mobile ham radios for cars. Its design boasts of a professional look, durability and an easy to use control interface.
It has all the top tier features you will expect to see on a top transceiver in addition to a programming cable and a CD to help your programming efforts. Transceiver features of quad-band, quad-standby as well as the four-color screen display improves the aesthetics of this device to pro status.
This model, which is the first in the Radioddity series, is very compact and can fit in on an averagely sized palm. So if you are on a self-driving tour, police or security guard, in a construction site or at the warehouse, makes Radioddity QB25 a companion to fulfill all your communication needs.
Lastly, the transceiver makes use of two flexible ways of programming – either by using a handheld device with the help of the handled speaker or by using a programming software that allows the seamless download of the latest upgrades from the parent site.
Pros
Programmable features for easy operation
Compact design suitable for most cars
A multifunctional screen display system
Four-channel display system and auto-monitoring feature
Cons
Limiting design flaw may hamper transmitter prowess
---
2. ICOM 2300H 05 144MHz Amateur Radio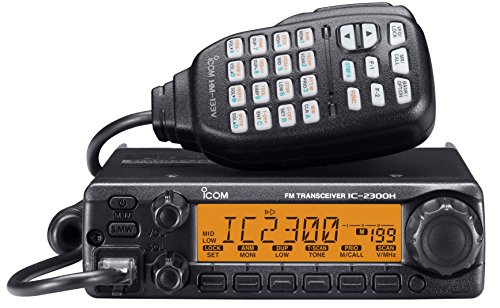 If you are in the market for a rugged Ham radio with a compact profile for your car or vehicles then look no further than this model. The ICOM 2300H ham radio is a sleek and compact as ham radios can get. The Icom-2300H model is a nice upgrade from the IC-2200H model so we expect that noticeable improvements must have been made.
The major difference between these models all bores down to the dimensions. The newer and more compact ICOM 2300H is way smaller and weighs just 2.43 pounds. This compatibility is an obvious advantage that sets it apart from the rest and makes it ideal for mobile use.
It truly delivers as nice vehicle-mounted ham radio. It offers multiple scanning functions and a durable build to all parts. Other features include almost all you need in a transceiver form a DTMF autodial feature to S-meter squelch. In terms of the scan functions, users can carry out a full scan, programmed scan, tone scan and a host of other scans as the situation warrants.
There are other excellent features exclusively found in ICOM 2300H – weather alerts, power voltage display, automatic power off, repeater system loud audio etc. We are certain that these special features make the price tag a bargain for anyone looking for suitable vehicle-mounted ham radio.
Pros
Numerous special features
Versatile and multiple scanning systems
Ruggedly built and durable
Easy to operate interface and program
Cons
The user manual doesn't do justice to properly directing owners
---
3. Kenwood TM-281A 144MHz FM Transceiver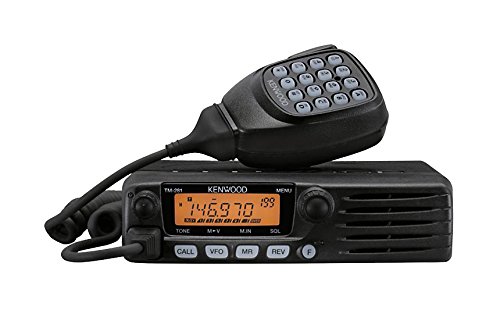 Compactness is a useful feature that makes the ham radios reviewed in this guide suitable for cars. The Kenwood TM-281A transceiver model fits the bill as one of the most compact ham devices for vehicles.
This model has the ability to produce an output power of 65 watts along with the ability to store channels in an alphanumeric display.
In terms of versatility, the Kenwood TM-281A series has the ability to offer 200 memory channels with the option to store 100 of those memory channels in alphanumeric characters. What more could you have asked for! This model has quality written all over the body and engineered design.
A CTCSS and DCS coding and encoding system adds more functionality to the ham radio device. CTCSS means continuous tone-coded squelch while DCS stands for Digital coded squelch. They all work in unison by transmitting at low speed and with a binary stream. They are a bunch of enhanced tone security measures that allow only devices set to the right tone to hear the transmitted message.
Lastly, this Kenwood model conforms to the popular 810 military standards and equally has a fantastic audio sound.
Pros
It has a very clear audio output
Versatile, with many programmable channels to choose from
Military-grade standard ham radio
Emergency weather alerting system
Cons
Some buttons may be difficult to read or use
---
4. BTECH Mobile UV-50X2 50 Watt Dual Band Base, Mobile Radio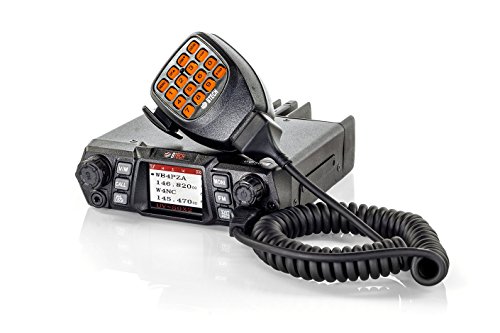 The impressive frequency range of this BTECH UV-50X2 mobile ham radio makes it worth the while. It has a frequency range that goes up to 520MHZ and like the previous model in the series this model still retains the auto one and off capability.
The display mode of this model is dual-synchronized to offer users an unprecedented level of flexibility. With a detailed manual, we are confident that buyers will have no problem understanding the basic functions it has to offer. Esthetically, it has a multi-color screen display LCD system that can be adjusted exactly the way you need it to be.
Like the Kenwood model discussed above, this model also has 200 programmable channels that can be given alphanumeric names. Remove any channel from the scanning list as it please you or set up the radio to operate as you want it to right from the comfort of your PC.
BTECH has been engineered to operate like multiple radios in one. This means with compatible devices, owners can use either 144 MHz or 430 MHz as the Main while monitoring three other frequency channels at the same time. The programming options are quite impressive so we are of the opinion this model will make a great buy or gift item to someone who needs it.
Pros
It has a dual synchronizing system
Can be used to simultaneously monitor more than one channel
Additional programming features
High and low power settings as the situation warrants.
Squelch information and tone editing features
Cons
The beeping tones of this model can be very loud
---
5. QYT KT-8900D Mobile Transceiver Dual Band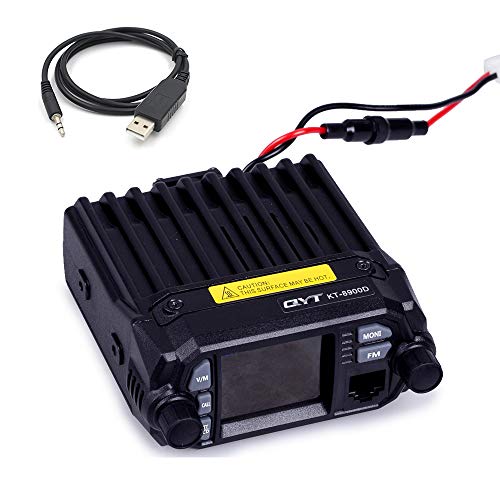 There are two features that stand out from the QYT KT-8900 model – the vibrant artistic color display and the quad-watch radio system. The KT-8900 series is primarily a dual-band radio but also has the ability to monitor other frequencies. It has a very good sound system with impressive signal reception at long ranges.
The timeout timer is another feature that makes this device unique. Users have the ability to set the radio to stop transmitting signals after every 30 seconds or at any customized time they prefer. With this timeout feature in place, battery power is stored until an appropriate use for power arises.
More power conservation is achieved by using the Auto power off timer. This timer switches off the device if there is no useful signal from the user. There is also a very wide array of settings that allows owners to adjust or fine-tune the quality of the transmission.
As every top model should have, the 8900 series also has a huge memory channel function that can store up to 200 channels. This makes it a top model for radio enthusiasts that needs more storage.
Pros
It is easy to use and has a very nice looking interface
Can be programmed from a PC
Programming takes a few minutes to complete
Basic radio design technology
Comes with additional mounting kits
Cons
Factory settings may have a few issues
Fails to modulate and reach via a repeater
There may be a slight learning curve for beginners.
---
Who needs a Mobile Ham Radio?
If you drive a lot and need to communicate on a regular basis then you should consider buying a mobile ham radio. It doesn't matter if you need to use the company's car, commercial bus or your personal vehicle; a ham radio will fit in just fine.
One advantage of using a ham transceiver is that they are made from sturdy materials that make them compatible with many vehicles provided the right mounting support is provided.

---
Installing a Mobile Ham Radio
Once you have purchased the right mobile ham radio, the next step is installing the device in your car. This should be a simple process that shouldn't take more than 30 minutes and depends on how fast you are at it.
Here's a step by step guide on how you ought to go about the installation process:
1.) Decide on the spot you need the ham radio installed
The most important step in the installation process is determining the right spot to mount the ham radio in your car. You should place the radio at a location that is safe and far removed from the degrading effect of harsh weather, rain and direct sunlight. You should also make sure it doesn't interfere with the person driving.
Ensure that it is also in a secure location where it can be easily reached while you are driving. If you have fulfilled all these conditions, it's time to mount the radio.
2.) Mounting the radio
The ham radio hook may look like a V face device that can either face upwards or downwards depending on the personal preferences of the owner. Place the mount in an area where there is proper air ventilation. If you get this right, then the damage caused by heat will be mitigated.
3.) Testing, Testing, Testing
Ensure that the mobile ham radio is securely fastened to the mount before carrying out routine testing. Next, test to see that the radio ham is functioning properly. Call friends and family members to assists you in monitoring its sound, transmission, and reception.

---
Buyer's Guide to the Best Radio Ham for Cars
Planning to buy a suitable radio ham can be challenging especially if you are not aware of the distinguishing features that make for a great product. Before you venture out into the open market in search of a quality radio ham system endeavors to educate yourself of the qualities and terminologies associated with radio hams.
Things can also get difficult for someone who has never used radio hams before. Even if you have used one, and looking for an upgrade you may be overwhelmed at the numerous features out there.
In this buyer's guide to the best radio hams, we highlight some of the most important features that make for great ham radio. You will do well to digest this information to the latter to save yourself the hassles that come with buying a wrong or beat-down product.
Your budget
One of the most important aspects of buying a mobile device is the amount that you are willing to spend. Although ham radios are relatively affordable, you may still need to spend a little extra for hams with special features. Don't fall into the trap of budgeting for a device that you cannot afford. Go for what is within your means and threshold.
If you need a mobile ham with powerful features you can't afford to consider saving a little longer to buy what you need. In the long run, you will be better off with the purchase you made.
Power range
The power range is the feature of a mobile ham that determines the distance of operation or signal reception. You ought to determine the range in which you will use a mobile ham before committing yourself to any. There is really no point in buying a ham to cover long distances when all you need is one that is sufficient for a few miles.
A high power range translates to farther distance coverage and sound clarity. Take that to heart and let it sink. If you fail to get this right you will end up with a mobile ham that will only make communication difficult for you and your team.
Remember that the better the power range the stronger the reception and clarity of signals and sounds. Thus power range is one of the most useful features that determine how effective communications will be without distractions.
So ask carefully yourself these questions; what power range do I require? Who and who will I communicate with and what's the average distance of communication? Correct answers to these questions should point you in the right direction to suitable ham radio for your car.
Display system
The display system speaks volumes about the clarity in both clear and bad weather conditions. To some extent, the display is tied to the aesthetic look of the device so a contemporary design is best suited for those who want something that blends in nicely with their vehicle.
The most important aspect, however, is to ensure the ham radio you purchase has keys and digits that are clearly seen during the day and at night. Avoid like a plague poorly designed display system that will only serve to strain your eyes.
Weather alert feature
If you have made up your mind to buy a mobile ham radio, don't you think it's also wise to ensure that it has a weather alert feature. Most radio hams in the market today now come with weather alert features because manufacturers recognize that the weather is a vital aspect of the performance of the mobile ham radio.
You need not worry about the authenticity of the weather alerts. Most come from credible local authorities and the NOAA. Warnings of harsh weather conditions are something you really need to be aware of to prevent you from traveling to areas that are unsafe.
Material quality
Regardless of the kind of budget you have set aside for a mobile ham radio device, we are of the opinion that no one in his or her right senses will purposely buy a device built with poor quality materials. You should know that in every category you choose (budget-wise) there is always a quality mobile ham radio for the price. Even if it comes with a few features.
Since you will be using this ham transceiver in your car, there is a high probability that it will be accidentally hit several times. The ability of the ham to withstand such hostile conditions should be of paramount interest to the buyer.
However, determining the quality and probably performance over time can be a hand thing to determine. Your best bet is to read lots of verified customer purchase reviews to have a feel of its durability as well as its performance.
Programming ease
The programming system of some ham radios may need a little learning curve, especially for first-time users. However, most will come with easy to use programming feature and a user manual to guide you all the way.
Look to good ham radios that allow for both manual and automatic programming via a PC. Consider another option if the ham isn't flexible enough to allow for manual and computer program settings.
Alternatively, if the programming jargon doesn't make sense to you, consider learning all about it from someone who knows what he is doing.
Reliability
The reliability of mobile ham radio is synonymous with the performance of the device. How reliable the ham radio determines whether it still manages to perform well under low power or in areas where there is poor reception sound quality.
It doesn't matter if you choose a tri-band model or you opt for another brand, the performance of the device should at least be at a reasonably high level.
Conclusion
In conclusion, consider all the factors we have discussed in the buyer's guide section in other to make the best pick for your budget. Our experts spent a lot of time scanning through online stores to write you a review of the very best of them all. So the least you can do is take the information in this guide to heart before making an investment.
No doubt, the market is flooded with cheap products with the promise of high performance and quality. Only the gullible and those who fail to do background research will fall for mediocrity. We can't stress how important it is that you never settle for anything that isn't of good quality.
Let us know what you think about this article in the comments section below.