Best Handheld Vacuum for Stairs Reviews – 2020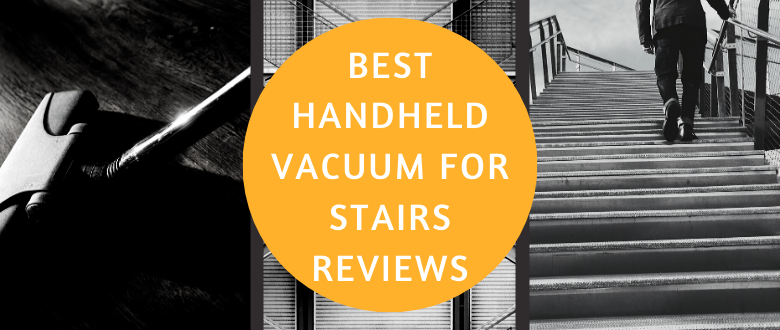 What is the best handheld vacuum for stairs? 
You know how hard it is to clean the dust & other dirt from stairs. Especially, if you have kids or pets, you know that some hair, dirt or fur will make it to the tiniest crevice on your staircase. Now getting rid of this mess is not easy with a normal vacuum cleaner.
To restore the beauty of your staircase, you need the help of the best handheld vacuum for stairs.
There are plenty of handheld vacuum cleaners available in the market today. These differ from your standard full-sized vacuums, as they are meant for smaller areas. Imagine, you not having to carry the huge vacuum up or down your staircase.
In this post, you will find the top 5 handheld vacuums that you should consider adding to your home cleaning appliances.
Disclaimer: Some of the links on this site may be affiliate links. This means that I will earn some commission if you buy something after clicking one of these links on our site, at no cost to you.
Top Choice: Black+ Decker Handheld Dustbuster CHV1410L
A battery-powered Black+Decker model might be the best choice for you.
You get a lightweight handheld vacuum cleaner that has the sufficient suction power to clean your stairs. Given its weight, you can also maneuver the vacuum with ease.
Best Handheld Vacuum for Stairs – Reviews
---
1. Dirt Devil Scorpion Handheld Vacuum Cleaner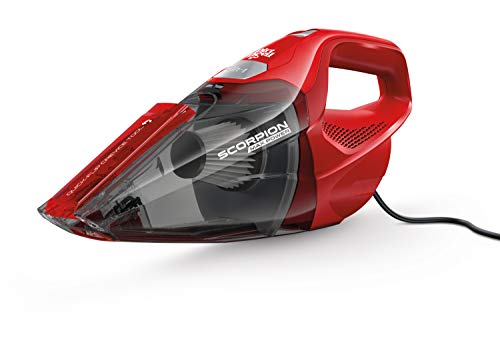 This handheld vacuum cleaner is compact and corded. Besides, it uses a 7 ampere powerful motor to produce the far-reaching suction effect. Thus picking small pebbles, stuck dust or clearing large messes is simpler. With its 16 feet cord, you can vacuum a flight of stairs with ease. You don't have to relocate the cleaning equipment from one socket to the next.
Since it packs more suction power, it provides the versatility of use. For example, it can clean both home and car interior. From such surfaces stuck pet hair and accumulated dust is no match for it. The highly portable cleaner weighs only 3lbs. Therefore you won't feel much strain on your arms when vacuuming curtains, couch, windows, and carpets.
Its filter material is located in a strategic place that is easy to reach. Therefore, after prolonged use, you can remove and wash it without hiring a professional. That ensures that the machine maintains a powerful suction. When you come across tight areas that the handheld cleaner can't access, the flip flop crevice tool comes in handy. The 2.5 hose pipe ease cleaning of tight corners, between cushions and crevices.
As the dust is sucked up, it deposits into the large capacity cup. Consequently, it doesn't force you to make several trips to disposing of the dust.
Who is it for?
If you need a corded vacuum cleaner that gives consistent power then this is equipment is for you. Also, it gives you the crevice tool to ease the cleaning of cracks or hard to reach areas. Unlike the rechargeable units, this machine delivers consistent power all the time.
Pros
The crevice tool easily flips down
Equipped with a powerful motor
Easy to clean with the removable and rinse able filter system
An easy to hold and comfortable handle
Power cord extends to a large radius
Cons
When turned on it produces a loud sound which can be disturbing
Although handheld it is slightly heavy to carry around
---
2. BLACK+DECKER Dustbuster Handheld Vacuum (CHV1410L)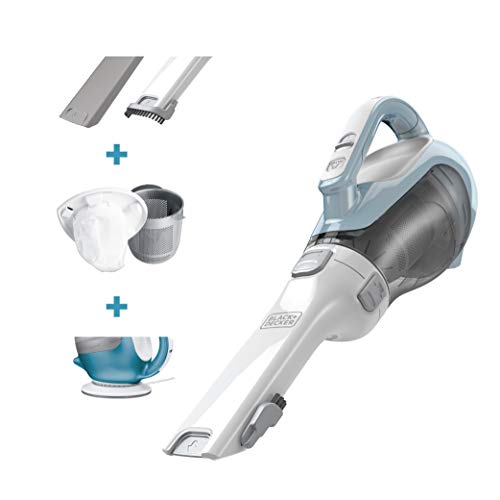 Since 1910, BLACK+ DECKER Company has been in the niche of making home cleaning tools. Having gathered vast experience, this time it shows its expertise in the cordless handheld cleaner. The BLACK+DECKER CHV1410L is one of the top handheld vacuum cleaners.
The BLACK+DECKER CHV1410L uses a powerful rechargeable battery. When completely depleted, the battery takes 4 hours to attain full charging. And once fully charged but still plugged into the socket, the charging system automatically shuts down thus avoiding overcharging. When full, the 16v battery produces a suction power of 15.2AW. Thus it will clean different surfaces like tiles, carpets and even furniture without a struggle.
Unlike other vacuum cleaners that experience power loss with time, this unit maintains its power for 18 months after recharge. From a single charge, it delivers 20 to 30 minutes of run time. Owing to its 2.6 pounds weight and cordless system, it's easy to use on a flight of stairs. You don't have to worry about tripping over a cord.
This device uses cyclonic action. Therefore, the debris and dust picked up are driven away from the filter system. As a result, it keeps the filter clean and thus maintaining a steady suction power. And when it gets dirty, the filter is washable.
Using the combination of a slim rotating nozzle, flip brush and the crevice cleaning tool the equipment provides complete cleaning action. You can easily flip up stuck dirt and vacuum over it for perfect results. The 20.6-ounce large capacity dust bowl is also transparent. Thus you will easily see-through when the bag is full. Besides, the bowl doesn't attract lots of dust, thus easy to empty.
Who is it for?
It's ideal for the person who wishes to vacuum a short flight of stairs. For instance, it's convenient for cleaning an area which might take you about 20 to 30 minutes. But in those few minutes, it gives you enough suction, without any dangling cords. That also makes it easy to lift from one place to the other.
Pros
Has no cords which might trip you
Uses the smart and efficient charging technology
Is lightweight at only 2.6lbs
Filter is washable
Battery once charged stays charge for longer period
Backed by a 2-year warranty.
Cons
Unfortunately, you have to wash the filter frequently to keep up with strong suction power
The battery capacity limits your cleaning time
---
3. EUREKA EasyClean Lightweight Handheld Vacuum Cleaner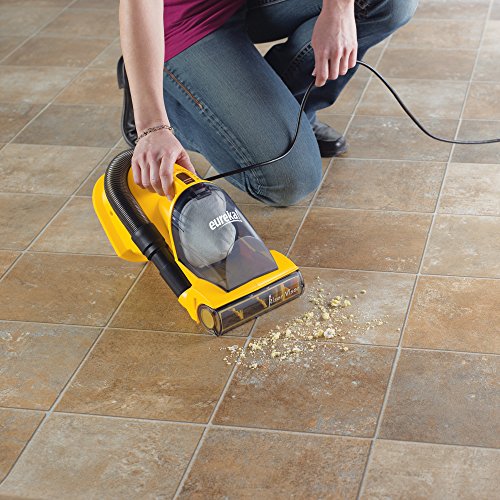 Using a combination of a rotating muzzle and great suction effect, the EUREKA EasyClean Lightweight Handheld Vacuum Cleaner produces effective cleaning. It provides effective relief in removing stuck pet hair and accumulated dust. Due to its lightweight and structure, it makes cleaning of vertical upholstery easier than before.
This EUREKA 71B is ideal for cleaning wider areas like the home, car interior and the garage too. In addition to the carpeted floor, it also provides relief on tiles, hardwood, and Vinyl. Also, the 20 feet long cord ensures that from a single socket you can reach out to the furthest corner easily. You don't have to shift the equipment from one socket to the next during cleaning.
Besides, the rotating roller brush has an on and off switch. Therefore when you don't need it, you simply switch it off. Although the cord is longer, it has a provision where it coils up for storage easily. With a dual-motor system (one for the brush the other for suction effect) it doesn't overload one motor and thus efficient work.
And when you aren't satisfied with its service, then the one-year money-back guarantee allows you to get a refund.
Who is it for?
For the man who needs light vacuuming work, this handheld EUREKA 71B does the job consistently. Since it has a 20 feet long cord, it suits cleaning high stairs. You don't have to worry about pre-charging it before.
Pros
Can clean carpeted areas and even hard places
The extra-long power cord to cover a wider area
Uses motorized brush and high suction power to remove stubborn dust
Simplifies the cleaning of nooks and crannies
Cons
Few complain that it has poor motor heating. Thus it cannot be used for longer periods
It's slightly heavy; weighs 4.85lbs
---
4. MOOSOO Handheld Vacuum 12KPa Cordless
The MOOSOO Handheld Vacuum is powered by a 2500 mah rechargeable lithium-ion battery. The equipment requires 5 hours to achieve full charging. On complete charging, it delivers 30 minutes of run time. That gives you enough time to finish vacuuming your staircase.
Using the advanced brushless technology, the cleaner reduces motor friction thereby pushing up the suction power to 12Kpa. Unlike the ordinary vacuum cleaner with a shortened lifespan, the motor employed in the MOOSOO Handheld Vacuum has a lifespan of 500hours.
To help pick up even tiny bits of darts, it uses the advanced level filtering system of 13 HEPA. Therefore it's able to remove 99.95 percent of finer particles. Meaning it can effectively remove even ash and pollen from your upholstery.
You can either plug it into the wall socket and charge it from the charging dock or plug it into the car charger. Thus even when there is power blackout cleaning is right on schedule. And considering its lightweight of 1.1lbs, it leaves you with a happy hand at the end of the exercise. You won't experience any strain as you hold it by one hand and climb up your stairs.
When you want to clean hidden or hard to reach places, it gives you the protruded nose. Besides you can adjust its suction power from 7 Kpa to 12 Kpa. Thus it allows you to customize the suction power to suit the job intensity. Even the motorized brush features the adjustable power system.
At the heart of the handheld vacuum is the stainless steel mesh filter. That provides superior sturdiness and is washable too.
Who is it for?
If you need a lightweight handheld vacuum cleaner, with no annoying cord then this is a piece of equipment to look into. It makes a good choice for the less energetic group like kids and the elderly.
Pros
Very portable and lightweight; weighs only 1.1 pound
Cordless operation
Dual charging method
Easy to clean filter system
Adjustable suction power
Elegant outlook
Picks up on hair and fur easily
Cons
The 30 minutes run time limits the area you can clean
The dust holder can hold only about 3 inch of dust
---
5. Shark Rocket Ultra-Light with TruePet Mini Motorized Brush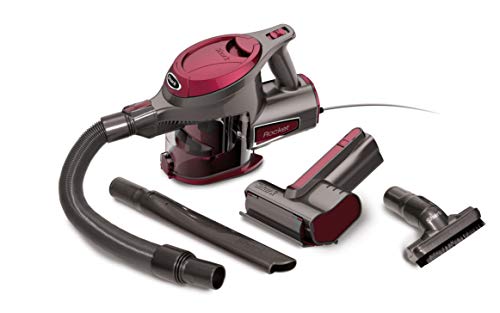 If you are ever bothered by the cordless designed vacuum cleaners, then consider the Shark Rocket Ultra-Light HV292. With a corded system, you don't have to recharge it again and again. When you connect it to the socket, it provides consistent powerful suction from beginning to the end.
The 400 watts equipment uses a powerful 3.4-ampere motor. Besides it also incorporates a motorized brush system. So when you have specks of dust or pet fur on upholstered stairs, the motorized brush assists in deep cleaning action.
Although corded, its 15 feet power cable increases the range you can cover during the cleaning exercise. Besides it also features a lightweight of 3.7lbs. Unlike the vacuum that uses bags to collect the dust and debris, this Shark Rocket Ultra-Light HV292 employs a cup. Once it's filled up, simply press the front located button for easy disposal of dust.
In addition to cleaning the stairs, it also clears dust and debris from car interior, raised floors. Since its filter is washable you can use it multiple times.
Who is it for?
This vacuum cleaner is ideal for the man who needs consistent suction power to clean a relatively small area. If the rechargeable system bothers you then this corded and lightweight cleaner gives you relief.
Pros
Offers consistent impressive suction power
Efficient deep cleaning action
Has a lightweight of 3.7lbs
Provides a hygienic way of disposing of dust
Cons
Has no provision for coiling up its cord when not in use
The cord limits the radius you can cover
---
How to choose the best handheld vacuum cleaner
At times choosing the right handheld vacuum can be a tiring task. However, if you ponder on the following questions, you are likely to make the right decision;
Do you need corded or cordless design?
Corded cleaners provide consistent suction power from start to end. You don't have to wait for any charging period; pick it at any time, plug it into the socket and begin your cleaning.
But the cord limits the radius you can clean. So the longer the cord the better; around 15 to 20 feet should be sufficient.
On the other hand, cordless designs are highly portable. However, the only downside is that they are only ideal for short interval cleaning.
The most common cordless vacuum cleaner will provide between 20 to 30 minutes of run time. Thus they are ideal for quick vacuuming for example on a shorter flight of stairs.
Can you bear it weight for the entire cleaning time?
Next, consider the weight of the equipment. Can you bear that weight happily as you climb up the stairs? You should choose on a weight which you can happily carry in one hand regularly without strain. The elderly and children are better placed with an extra lightweight
What do you wish to clean from stairs mostly?
Think of the range of items you need to pick from your stairs. A basic vacuum cleaner may only suck up loosely held dust particles. However, when you need to clean embedded pet fur and dust particles, you may need a dedicated cleaner.
In such instances, you want equipment with attachments, motorized brush or hoses for easy cleaning. Consequently, such intensive cleaning requires corded designs.
Is it comfortable in your hands?
Remember you will be holding the vacuum by the hand. So make sure it provides for an easy and secure way to hold the equipment. Besides, it should be comfortable and not discomforting to the palms or fingers.
Do you need adjustable suction power?
To suck build up dust from the carpet in an area of high traffic you may need extra power. If that describes what you need, then go for the models that allow you to vary the vacuuming power as the job condition requires.
Conclusion 
With the above guidelines, you should be able to make the right choice on the right handheld vacuum cleaner. The above list provides some of our best choices. Moreover, they have been backed up by numerous customer reviews. Do you wish to know to dig deep into what previous users had to say? Then click on the product, read customer reviews, questions, and comments.
If you are looking for a cheaper vacuum cleaner, you can read Reviews of Best Vacuum Under $150.
If you do not wish to use a vacuum to clean your carpet on stairs, check this video out:
Let us know what you think about this article in the comments section below.