Best Magnetic Tiles for Toddlers – Reviews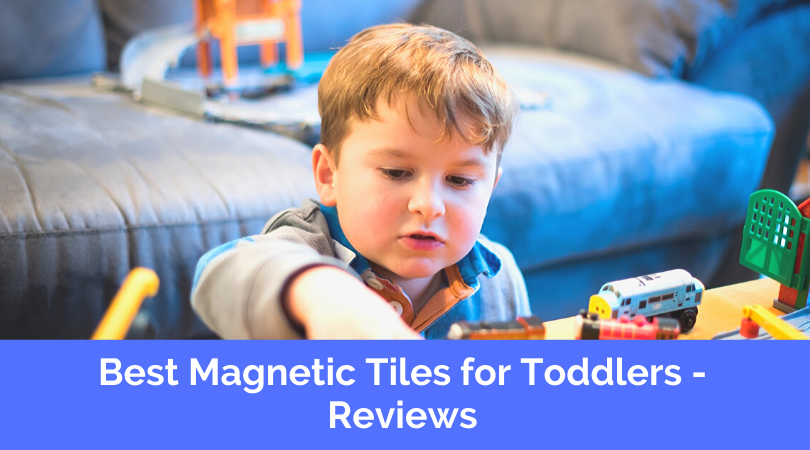 Playing with magnetic toys can be great fun for kids. Magnetic toys also help toddlers develop their Science, Technology, Engineering, and Math (STEM) skills. We, at Comparily, have put together a list of the best magnetic tiles for toddlers and kids in this neat review guide.
Magnets can be a great source of entertainment for kids who like to construct things. Magnets help these tiles to stick to each other. This is great for kids as it does not require a lot of effort to hold their pieces together. Magnetic tile will also help in stimulating a kid's imagination.
Disclaimer: Some of the links on this site may be affiliate links. This means that I will earn some commission if you buy something after clicking one of these links on our site, at no cost to you.
---
Best Magnetic Tiles for Toddlers Review
Given below is a list of some innovative magnetic tiles that can entertain your kids.
1. Picasso Tiles Magnet 60 pcs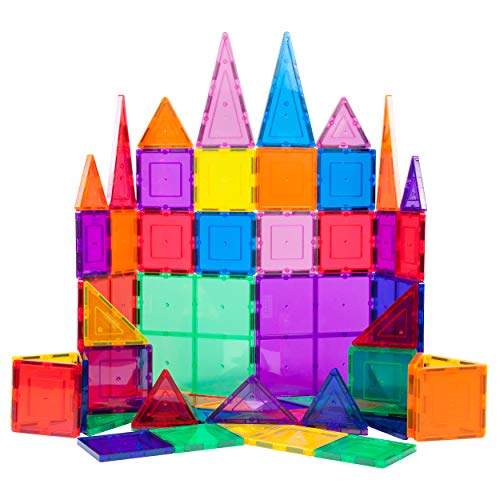 Picasso Tiles Magnet is one of the best toys for kids and can be used for both educational and recreational purposes.
The magnets are made of marble tiles and have 60 pieces in it. The following shapes are included in this toy set:
4 large squares
24 small squares
18 small equilateral triangles
8 right-angle triangles
6 large isosceles triangles
They are clear in appearance and can be used to construct 3D objects and blocks. Your toddler can use their imagination and create various designs.
Using the tiles, your child can learn about shapes, colors, numbers and even magnetic polarity.
Pros
Magnets are stored inside a plastic case so you don't have to worry about your child eating magnets
It is easy to store them
These tiles are also compatible with Magna tiles which makes mixing the two sets easier
The color of the tiles is very clear
Cons
The tiles can be a little complicated for kids who are under 2 years of age
There are no activity sheets in the package. You receive them via email.
---
2. Dream Builder Toy 106 pcs Magnetic Tiles
This toy is known to be one of the most innovative products and contains different kinds of items. This toy consists of different shapes of tiles, triangle, square, hexagon, semicircle, wheelsets, rectangle, wheelset, cards that are alphanumeric magnets. This toy comes in various shapes which helps kids to think critically.
This product has been certified by ASTM and CPSIA compliant as safety is always the first priority of our kids. These blocks go through an ultrasonic process that keeps the product from breaking and increases the tightness of a product. This makes sure that the kids get a smooth feeling while playing with this toy. This toy also comes with a book that helps in inculcating ideas among kids who play with this toy.
Pros
This toy helps people in learning about math, symmetry and different spatial relationship.
This toy comes in various ranges where the pieces of the product differ in size. The different variants have 32, 48 and 100 pieces set. This enables people to buy this toy according to the budget.
This toy comes in different shapes such as squares and triangles that have magnets along the edges.
They are translucent in color and look beautiful on a table
This toy is pretty long-lasting and can be used by kids of various ages
This toy helps in promoting imaginative skills, problem-solving skills, and critical thinking.
Cons
These tiles are a little expensive
---
3. Ranphykx Magnetic Blocks – Construction Toy for kids
Check Price on Amazon
This toy comes in various shapes and has some props along with it. It includes tiles of different shapes such as triangle, square, a storage bag, and 2 wheels. These tiles come in different colors. It enhances creativity and educational skills in kids. This toy ends up making kids more imaginative.
This toy is not noisy at all and helps in creating motor skills and creativity at the same time. This toy is used by children who are ages 3 and can allow people to create things that are both durable and safe at the same time.
It is very easy to connect tiles with each other because of the magnetism in the tiles. This magnetic toy meets the American standard of the toy and is CPS certified which makes it safe for both children. The most important reason of why we like this toy is because it promotes creativity in kids while enhancing their hand coordination at the same time.
Pros
This toy is great for developing hand to eye coordination
It helps in the development of kids motor skills
This product comes with a manual book that directs kids about how to use this toy.
This product is in the form of frames rather than tiles which keeps it open in the center and makes holding easier.
Cons
This product is reviewed to be received with some broken pieces due to shipment which adds a little less star to the durability of this toy.
---
4. Cossy Kids Mag Genius Building Tiles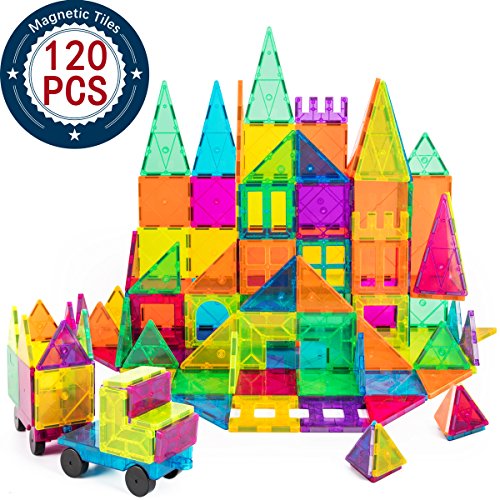 Check Price on Amazon
Mag Genius Magnetic Tiles is known to be an educational and interactive toy that allows kids to build their imagination and motor skills at the same time. This toy helps kids in recognizing different patterns and shapes while learning little about engineering, geometry, and architecture at the same time.
This set of the toy comes in 32 pieces which have different colors. Kids would be able to construct structures that are 2D and 3D at the same time and has a strong magnetic bond. These tiles are very attractive and colorful and can be in the form of 13 different shapes. Because of the variety of options, kids can get very creative while playing with this toy.
Pros
This toy helps in teaching kids how to recognize different patterns and color of a product at an early age.
This toy helps in the development of kids' critical thinking which helps in enhancing the imagination of kids.
These tiles come in multiple colors.
The storage of this toy is very convenient
The tiles of this toy come with strong magnets that keeps this toy together without having it falling apart.
Cons
This toy has a tendency to get all scratched up which can make it look hazy.
---
5. Zenfolt Magnetic Blocks
Check Price on Amazon
This toy is CPSIA certified and is Non-Toxic made out of ABS plastic. The tiles of this toy come with round edges and are not sharp at all. This adds to the safety of this toy. Because of the strong magnetic attraction, it helps kids in building diverse patterns that add to the creativity of the person.
There is ultrasonic welding for better rightness which also prevents breaking of this toy. This toy also develops shape recognition and imagination of a person because of its manipulative ability. This toy also has a problem-solving ability that helps in thinking and design ability of a person. This toy enables kids to learn while they are playing. This further helps in shape and color recognition while enhancing their designing ability.
This toy is perfect for STEM preschool games which are suitable for kids who are ages 3, 4, 5, 6, and 7. This toy allows kids to enjoy quality time with family. This helps a family in getting closer to the kids which would then help them in establishing healthy and positive parent-child relationships.
This pack of the toy contains 24 equilateral triangles, 16 squares, a storage pouch, and a user manual. All the tiles of this toy are compatible are other tiles with the same product.
Pros
It is very easy to clean these tiles in case they get dirty.
This toy helps in the development of a child's creativity, imagination and critical thinking of a person.
This toy can help kids with recognizing different kinds of shapes.
Cons
The tiles that come along with this toy are smaller than what is expected.
---
6. Jasonwell Magnetic Tiles – Stacking Toys for Toddlers
Check Price on Amazon
This toy comprises of different shapes that can be combined into one pattern or shape of an animal, house, planes, ferry, etc which helps kids in their development.
Playing with Magnetic stacking toys can help in developing kids and their creative minds. This toy contains a total of 133 pieces which includes different shapes, wheels, digital cards and storage bag, etc.
This toy has different colors and shapes with two different colors at each end. This can help kids in learning shapes, letters, digits, and colors while playing.
The quality of these magnetic blocks is high in quality and is made out of ABS material which has round edges. This ensures the safety of this toy. The manufacturing of this toy also includes the ultrasonic welding process which prevents this toy from breaking into pieces. The strength of this magnet ranges from 4300 – 4600 gausses.
This toy allows the family to sit with each other and spend quality time. The bag also comes with a storage bag where all the tiles of this toy can be stored in a go. The toy comes with a booklet that enables kids to enhance their skills by designing different kinds of models. This device also comes with tiles that are compatible with the tiles of other toys.
Pros
The material of this toy is not toxic in nature.
Each tile comes with rounded edges which reduce the risk of injury to toddlers.
Kids can develop skills of color recognition as these parts are a multi-colored pattern.
The toy also comes in different kinds of shapes, which again adds to the knowledge of the kid while getting acquainted with different shapes at the same time.
Cons
These pieces are not as strong as what is expected of them.
---
7. Magformers Challenger Set – Educational Magnetic Blocks with Magnetic Building Blocks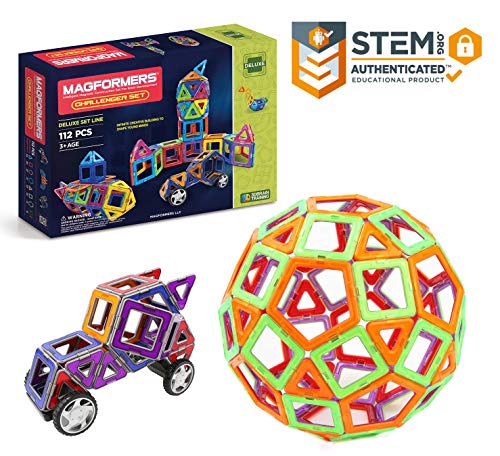 Check Price on Amazon
This toy is great for developing the awareness of a kid while stimulating their mathematical thinking, problem-solving ability and logical reasoning at the same time.
MagFormers are bright-colored blocks that have many colors to play with. All the blocks have a magnet attached to it that has an alternating magnet encapsulated in the next shape. This toy can hold an educational purpose for both girls as well as boys by allowing them to build their own imaginative 3D structure.
Pros
The blocks present in this toy can be connected to each other in many directions making the shape look 3D.
Kids can get to learn their mathematical skills with the help of this toy.
The pieces of this toy have different colors and are high-quality tiles.
Cons
The triangle pieces of this toy are very difficult to recognize.
---
8. Piece Tegu Original Magnetic Wooden Block Set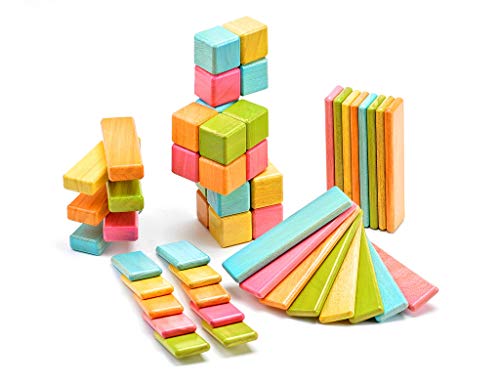 Check Price on Amazon
This toy is known to be good for kids and can be used by kids to draw different shapes and stack things. Apart from the stacking and drawing, the kids are amazed at the magnetic abilities of the magnets.
The entire toy set is quite durable in nature and can last for a longer time. It comes in a set of 52 pieces that are of different colors. This attracts even more kids this toy. The exterior of this toy is well furnished and quite smooth which makes this toy feel less irritating. It is a simple toy for kids to use and helps them in keeping different shapes in place.
This toy is quite simple to use and that is what attracts kids to use it even more.
Pros
This toy, unlike other plastic toys, is made of wood which makes it last for a longer period of time.
This toy can be transformed into different shapes depending on the imagination of a child.
This toy is painted with a non-toxic substance with a smooth finish. This keeps the irritation off kids.
The blocks and tiles of this toy are compatible with the Tegu magnetic sets
Cons
The shapes are not that great
The magnetic strength is not that strong
---
How to Choose the Best Magnetic Tiles for Kids
Practicality
Start for looking at products that will add to your kid. If you bring out the cost price of the toy, the usability of this toy should be very easy. Kids are very complex and they tend to lose interest in toys. Magnetic tiles with blocks can be a hands-on experience for kids and will keep the kids hooked for a longer period of time.
The material of the product
It is important to check the material of your toy while buying it for your kids. Kids can get rough on toys so it is very important to look into the intricate details of the toy. Buying something brittle can be a bad decision as it can hurt your child. Second of all, this product can be safe for kids and should be free from BPA. If you are someone who is considering wooden blocks for your kids, you should go for it as it is safe for kids of all age groups.
Type of Toys
Different kinds of kids come with different preferences when it comes to the type of toys used. If you are someone whose child likes to play with blocks, gears and numerals might not interest you at all. For best results, it is important to know what your kid likes.
---
Conclusion
There has been an era where all kids have played with dolls and cars. If you are someone who is planning to buy something new for your child, try and get your hands on magnetic toys.
In order to give your girl or boy something different, magnetic toys can be a top pick. Mentioned above are some of the best magnetic toys reviewed for kids.
Each toy will enhance creativity which can help people in discovering new skills. These skills come in different colors, shapes, and spaces in the first place. This will also help kids in increasing their physics, art, engineering, math, and architecture at the same time. This boosts the confidence level of the kids which is combined with fun, longevity, learning, and collaboration. The playing experience of these magnetic toys has had a strong impact on the growth of a toddler.