Best Sleds for Toddlers – Heavy Duty Snow Toys for Your Child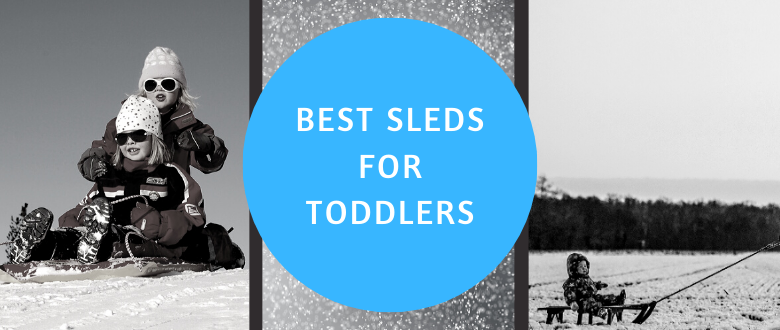 Winter is a time when kids can enjoy snow-based outdoor activities. As a parent, you are keen to start looking for some of the best sleds for toddlers to play in the snow. Snow sleds are a neat way for children to go out and get energized as they play with snow.
There are many snow sleds available in the market that helps kids in gliding down the mountains across the slippery snow. And while kids look for adventure, it is important to keep their safety in mind.
Here are some of the best snow sleds that kids can get their hands on and that takes care of adventure and safety at the same time.
Disclaimer: Some of the links on this site may be affiliate links. This means that I will earn some commission if you buy something after clicking one of these links on our site, at no cost to you.
Top Choice: TSL Sleds Kid's Pull Sled:
The TSL Sleds Kid's Pull Sled is the recommended snow sled for the year. This snow sled is ideal for your kid to have a good time on the snow.
Your toddler can sit comfortably in this sled from 7 months onwards. Do consult with a pediatrician before you get your child in the sled. The harness that comes with the snow sled can make your child sit upright.
The sled can be used not only on snow, but you can pull it even on mud or grass. Talk about usefulness.
If you are looking for a good first sled, you cannot go wrong with this one from TSL Sleds.
---
Best Snow Sleds for Kids Reviews
In this section, you will find a review of the top snow sleds for kids. We have also included two snow tubes that you can use to have fun in the snow.
1. Flexible Flyer Portable Snow Stroller Baby Sled
This sled is recommended for kids who are below the age of 4 and weigh below 50 pounds. This sled is ready to use and is a full package for a kid who wants to have the best time in the snow. Kids can get on the sled and start sledding through the season. This sled has a lovely finish that makes it very popular among kids for the use of both boys and girls.
While taking care of the fun, this sled also takes care of your kids' safety at the same time. This sled comes with a soft handle that can be gentle of the little fingers of your kids. This can make the pushing process much easier if you are going uphill or down the hill. It can at the same time improve the motor skills of your kid and help them in advancing their eye coordination.
The grip comes with thick padding and is foldable.
After using the sled, this sled can be folded in order to store optimally to take the minimal room space. You have to button the sled in order to tune it into a collapsible stroller. The steel runners are high quality and are stainless steel that ends up enhancing the speed and performance of a sled which pushed even the heavy snow down in order to slide smoothly.
The metal bars are stylish and do not rust at all. This makes this sled to stay useful for an extended period of time. Even infants can try this sled as it comes with a high back design and a strap that can hold a baby safely in a sled. The sitting area of the sled comes with an area that is 17 inches high x 14 inches wide and 33 inches long which makes this sled pretty spacious.
Pros
This sled supports upto 50 pounds of weight
It has cosy and spacious seat
It has got runners that are made of stainless steel
It is suitable for kids who are under 4 years of age
It has long handles that can improve mobility of the sled
Cons
The quality of the sled is not that great
It is slightly on the expensive side
---
2. Slippery Racer Downhill Sprinter Toboggan Snow Sled
We all know that kids are attracted to bright colors and having a toy of bright color can attract them better and improve their interest during playtime. The Slippery Racer sled comes in a variety of colors such as pink, red, blue and green. Buy your kid their favourite colors so that they love to play with their toys while enjoying their outdoor activity.
This sled is made with plastic of premium quality that has a waterproof coating that keeps it safe from the wet conditions that it is supposed to slide on. This product is reliable and does not discolor or break which is not common in comparison to other products available in the market. The coating does not just make this plastic water-proof but also helps with the durability of this sled.
This gadget comes with an integrated rope which makes the application of this product very straight forward. A person can just start by pulling the rope on a snowy hill. It is lightweight which makes it super easy for kids to operate and is the best equipment for kids who are 4 years of age.
It is quite equipment and is 35 inch long, 17 inch wide and 5 inch high. It means that this sled has a room to hold two kids at a time in the most comfortable way. The design of the sled is curvy which increases the speed of the sled coming down the hill. It is quite durable in its manufacture and can hold enough weight to not break.
Pros
This equipment comes in various colours
It has a comfortable sitting area
It comes with a long-lasting area
It doesn't crack easily and has a cold-proof structure
The structure of this equipment is simply architectured and can be pulled easily with a rope
Cons
It does not have a belt with it which is used for support and safety of your kid
Faces some problems while going uphill
---
3. TSL Sleds Kids Pull Sled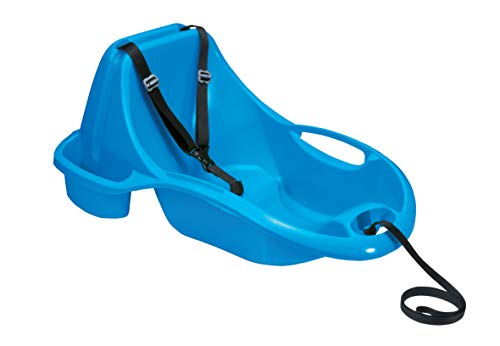 TSL sled is one of the most energizing, interesting and fun equipment that is preferred by kids. This equipment is known to improve the motor skills of a child while helping them create balance while sledding on snow.
Both sides of this toy have elevated sides that keep kids dry while sliding on snow. It comes with a friendly height which makes it easy for kids to get on the equipment. The safety status along with this equipment is high and keeps the kids safe even when they are on the sled. This equipment can keep you equipped without worrying about the fall or slips from the sled.
This equipment has molded outriggers integrated with it which makes it stable on the terrains. The storage of this equipment is quite minimal and comes in 29 inches long, 19.7 inches, and 12.6 inches high which makes it suitable for different kinds of body sizes.
This equipment is 3.5-inch weight and is very easy to use. The material used for this equipment is premium which makes it long-lasting while providing full value of money. The material used in the equipment makes it low in friction.
Pros
This equipment helps in improving the motor skills of a kid
It is secure and easy to store
It is an energized gadget used by kids to play
It is very safe to use for kids because of its height
It has molded outriggers that makes it stable in most of the terrains
Cons
It faces some problems with sliding smoothly over snow
It does not have an ideal size of a 3 year old
---
4. Flexible Flyer Premium Baby Sleigh Wooden Pull Sled for Kids
It is one of the leading brands available out there that sells sleds. This equipment works by improving the sliding activities of kids at the time of sledding. It is best suitable for kids who want to spend quality time outdoors in winter.
This equipment is made in Canada and is made out of Maple Wood. It has a built sturdy runner that enables this equipment to last for years. The wooden build of this equipment gives a traditional touch to this product and is very easy to use.
There is no complicated integration when it comes to this sled. It is integrated with the metallic runners that increase the stability of this equipment which keeps it from getting damaged and increases the longevity of this equipment even while it runs on some rough patch.
Kids love riding on elevated positions while sitting on their sled while being secure at the same time. It comes with a back that has a double slat backrest which makes it suitable for kids who need some extra security at the time of sledding. Also, the broad base of this equipment prevents kids from any external injuries.
It is very easy to operate this device and has a dimension of 32.5 inches long, 14,5 inch wide and 13,5 inch high which makes it the ideal equipment for toddlers who are between 18 to 48 months old and weigh less than 50 pounds.
Pros
This equipment does not need to be assembled
It is handcrafted and is designed with maple wood
It is great for infants who are up to 4 years of age as it provides full security to the toddlers while taking care of the fun at the same time.
It is high in build that protects the toddler from getting wet from snow
It has an improved action while sledding on snow.
Cons
It is slightly on the expensive end
It is heavier in comparison to the other sleds in the market
---
5. EMSCO Group Infant Boggan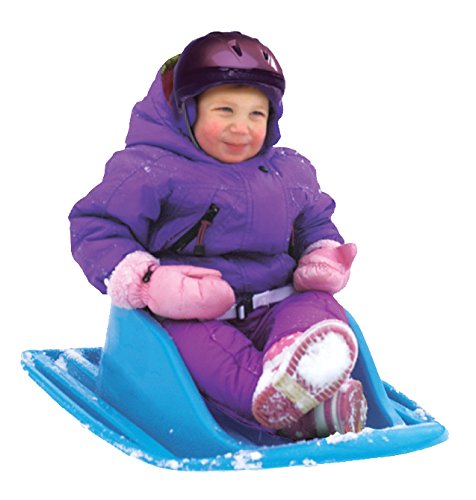 If you are someone who has a baby at home and you are wondering what new activity you should be doing this winter – Sleds by EMSCO Boggan provide an answer.
This equipment comes with a design that makes it suitable for infants who are up to 3 years of age while sliding down a snowy hill at the same time. It has a comfortable sitting area which is spacious enough for you to control your toddler and hold them in while moving on the steepest slope at the same time.
This sled has an extra-long rope with it so that parents can use it to pull the sled on the snow. This rope is used by parents until the toddler gets comfortable roaming around on its own. The seat of this sled is padded and comes with a seat belt that looks into the comfort and safety of a person irrespective of the speed taken by them over snow.
It comes with the latest design with high walls and parents can choose the favourite color of their children that can glow in the day. These designs make the snow glow around the sled. The glow provided by this also helps in improving the visibility at the time of snow and helps people in tracking their sled in case they lose it while sledding.
This equipment weighs around 45 pounds and is known to be slightly heavier compared to other competitors in the market. This often ends up making this device more stable for people and has high raised structure that adds to the safety of the toddler.
Pros
It is best suited for babies who are under or up to the age of 3.
This equipment is known to be steadier than other products available.
It has a spacious interior which makes the seat quite comfortable for the toddler to sit on
It comes with a seat belt which adds to the protection
It has different Day Glow colours that help in the visibility of this equipment
Cons
It cannot handle more than 50 pounds of weight
---
6. DUDU Snow Tube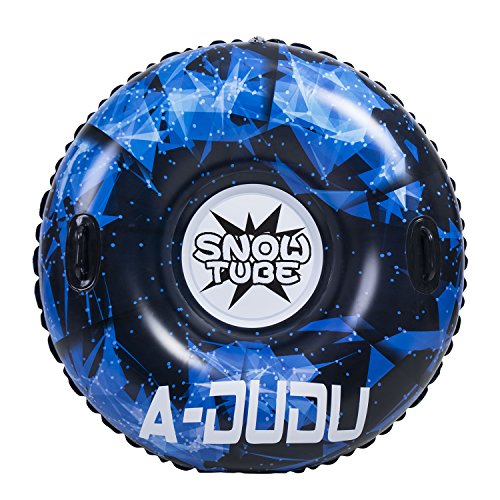 People use this equipment for kids for snow sledding. It can a wide surface area ranging up to 47 inches that can support kids without breaking the tube into half. It comes with a streamlined circle that helps in the safety of kids who are sledding through a tube.
It is often received by people as their winter or Christmas gift.
The tube is 0.6 mm thick that makes this equipment more stable. This product improves stability. This device has some seamless bonding technique that helps it in even bearing the weight that goes up to 500 pounds.
Pros
It can be used by both adults and kids
It supports up to 500 pounds of weight which is a lot
It is made of a thick tube that makes this equipment more stable
This equipment is spread at 47 inches
It is inflated quickly and has many valves
Cons
It does not have a proper back stand
It does not have any belt and needs one to balance themselves on the tube
---
7. Lucky Bums Snow Kids Toboggan Sled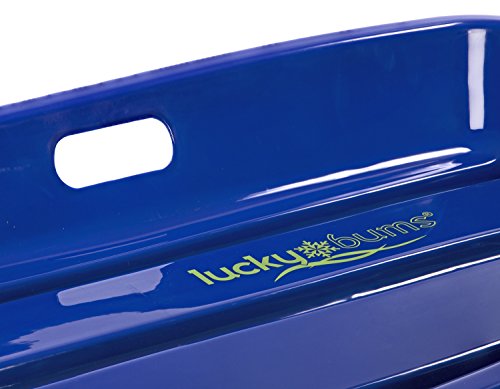 This sled is ideal for one person and is used for sledding rapidly over the snow while taking care of the security at the same time. This equipment comes with some in-built handles and ropes that can be used for pulling.
It measures around 35 inches which makes it perfect for people who are riding it alone. Kids can sit on this for hours and have all the outdoor fun that they can have.
Pros
It is one of those classic sleds which can be used by a single person for their day to day sledding
It is made of durable plastic material that enables people to play outdoors on this for hours without it breaking
It has built-in handles
There is a rope attached to the sled that can help parents to walk their kids in a sled
This product comes with a lifetime warranty when it comes to the materials used to make this sled
Cons
It has a limitation with the weight that it can handle
It cannot accommodate more than one person on a sled
---
8. Dudu Snow Tube – Inflatable 47 inch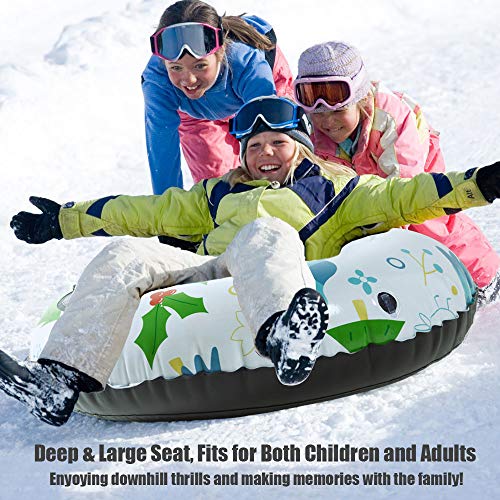 This sled can be used by both adults and kids for sledding. This equipment comes with a two-layered durable tube that has a hole in its bottom. This hole is important to air discharge between the two layers.
This tube is double layered and has a slight gap in the middle. Because of the presence of a double base, this equipment becomes more durable in nature. The material used for this tube is PVC which is environmentally-friendly and can stand even in the coldest of temperatures. This tube is known to bear a weight of about 500 pounds and has an anti-scratch material. The size of the tube is 47 inch which makes it suitable for both adults as well as kids.
Pros
It can be used by both adults and kids
It is a double-layered tube
It can bear a weight of up to 500 pounds
It has a special coating which makes it suitable for all extreme members.
Cons
Does not come with any back stand
It is not that secure for kids
---
9. Flexible Flyer Baby Pull Sled for Toddlers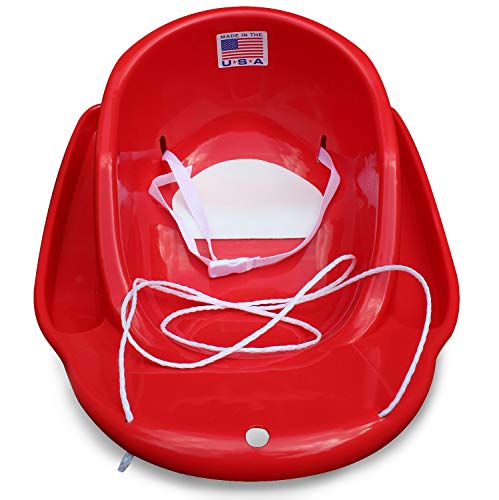 It is one of the best equipment that you can get your hands on if you have two kids to entertain this season. This sled is capable of handling 4-inch deep snow. The back is extra high in height which adds to the safety of the kids while they are sledding through the snow. The sled measures around 26.6 x 20.5 x 10.5 inches.
Apart from that, this equipment is made out of high quality/density polythene which makes it very resistant to any extreme temperature. It is best suited for babies who are under 3 years of age and gets quite convenient for the parents as well to handle it.
Pros
This equipment is suitable for 4-inch deep snow
It has a high back support that makes it very safe for kids to use
The sled measures 26.5 x 20.5 x 10. 5 which provides enough room for the toddler to the sled.
This equipment is best suited for kids who are below the age of 3.
Cons
It cannot accommodate more than 40 lbs of weight
It requires balance to slide this sled and parents should keep a check on their children while they are sledding
---
10. Best Choice Plastic Toboggan Snow Sled with Rope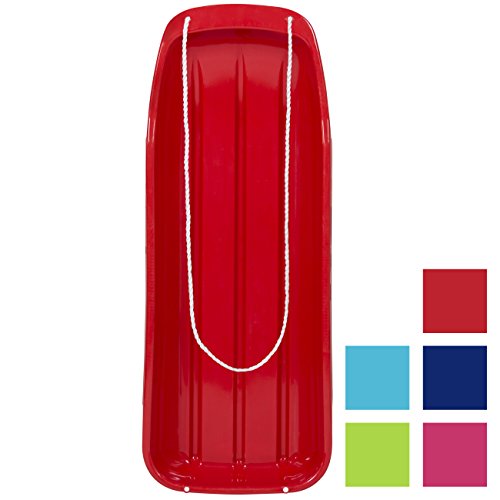 This product is ready to use for kids and comes with curvy edges which makes it easy for this sled to slide down the hill at the time of sledding. The seat of this sled is spacious that allows that adds to the ride of the kids and ends up making it more joyful and secure at the same time.
The dimension of this toy varies from 48 x 18 x 5.5 and can handle kids ranging from age group 3-15.
Pros
It has curvy edges that make navigating easier
It comes with ropes that help parents in dragging their children for sledding
It is lightweight
It is durable
Cons
It feels a little flimsy
It is a little expensive
---
Sledding Tips For Toddlers
You should never keep your kids from tobogganing and sledding just because it is too cold outside or you are not sure about how safe it is going to be. However, such activities always come with a risk and that is why it is important to go with the best product that suits your kid.
You should also consider the following sledding tips for your kids:
Make sure that the area where your kid is sledding does not have any obstacles
Go for sleds that give you better control over navigating
Always wear a helmet while sledding
Do not sled any place near a river, building, lake or rocks
Get your kid dressed properly for sledding
---
Conclusion – Best Snow Sled for Toddlers
Winter is all about making your kids leave the screens that they are hooked on and switching to outdoor activities. Sledding is a major outdoor activity that people opt for. There are many sleds available in the market. See what suits you the best and your kid and start having fun this season.