Best Car Seats for 5 Year Olds : (REVIEWS 2020)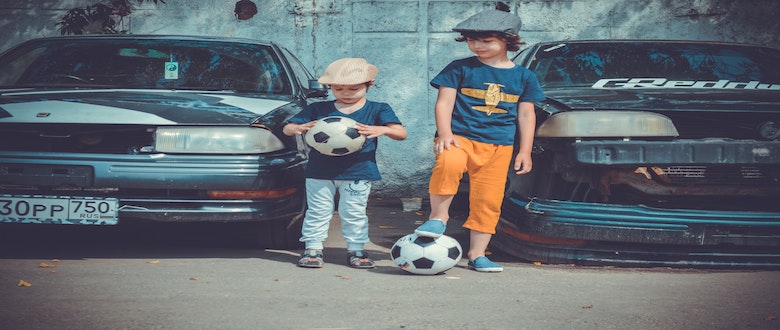 Do you often enjoy driving your car with your 5-year old in the back seat?
Such a ride eliminates worries and is enjoyable too. But that is only so when you've got the best car seat for a toddler. Long rides can then be comfortable and your safety is guaranteed too.
Which parent wouldn't wish to provide such a safe riding condition for a child?
There are hundreds of car seats in the market for children. To the inexperienced parent, it's very easy to land on the wrong car seat.
That's why we have gone ahead to research and shortlist some of the best models to consider.
These not only protect your young ones from impact but also provide comfort even when the child falls asleep during long rides.
Disclaimer: Some of the links on this site may be affiliate links. This means that I will earn some commission if you buy something after clicking one of these links on our site, at no cost to you.
Top Choice:Evenflo Chase Harnessed Booster
Having dived deep and researched the world of car seats for young children, we have shortlisted the best models for you. Although all the models listed here provide safety and comfort for the children, the Evenflo Chase Harnessed Booster stole the show as our top choice.
This seat provides 2 in one function, converts easily from one feature to the next and also employs the 5 point harness booster system. Besides, it accommodates children of varying heights and weights.
Its installation is straightforward even for first-time users. Using 4 shoulder harness positions in conjunction with 2 crotch position it bestows a snug fit to a 5-year-old child.
The Evenflo Chase Harnessed Booster passes the federal approval crash test, and has a comfortable feeling at the seat pad and head pillow.
And after you have purchased the seat, you get to enjoy 90 days money-back guarantee. That covers free service or replacement of defective parts. Whichever way your money is not lost.
For those reasons and much more, we ranked it as our top choice on booster car seats.

Best Car Seats for 5 Year Olds – Reviews
Do you know what makes the best car seat for a child?
A car seat should provide safety, comfort, be easy to fix and unbuckle.
This review has listed 5 booster car seats that you can install for a safe riding with your child close by.
---
1. Evenflo Chase Harnessed Booster, Jameson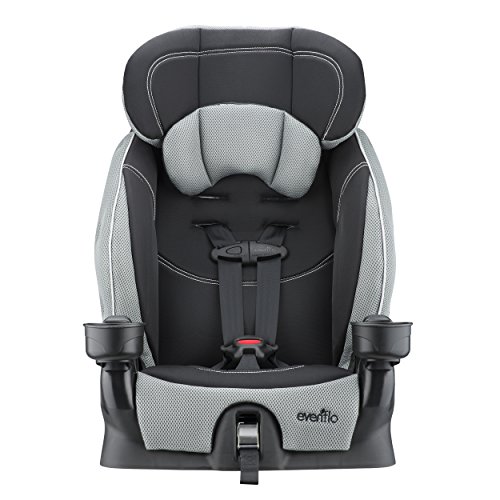 The Evenflo chase harnessed booster has two important functions. It can serve as a belt-positioning and also as 5 point harness booster. Switching from one feature to the next is also very simple. When you consider its 4 shoulder harness positions you realize it's the seat belt that a child won't quickly outgrow. For a child advancing from an infant car seat to a booster seat, this is the seat to consider.
As the five-point harness booster, it suits toddlers with the weight range of 22 to 40lbs and similarly height range of 28 to 50 inches. However, when you use it as a belt position booster it targets children between 40 – 110lbs and height 43.3 to 57 inches.
The convertible car seat installs in few minutes owing to its latch system. And once installed you can quickly adjust the 5 point position from the front seat position. Thus, when switching from one car to the next, it gives you easy installation and adjustments to your child's comfort.
The Evenflo Chase Harnessed Booster offers you twice the side impact protection and structural integrity of federal crash test standards. Thus it's the seat that offers the tested and approved safety standards.
The harnessed booster uses four shoulder harness plus 2 crotch position straps to guarantee the snug fit to the child. Even to the novice parent, it has the belt-positioning paths to guide a vehicle's belt and hence lead to an accurate and comfortable fitting. Besides, the auto-adjusting belt assists in the proper positioning of the lap-shoulder belt across a child's shoulder and thus providing optimal safety.
The entire seat features soft and warm material. With a comfortable seat pad and head pillow, this seat offers a soothing feeling to a child. To further help keep the child feel at ease the car booster seat has two cup holders. You can thus keep drinks and snacks close to the child; hence giving you time to concentrate on the road.
And when the drink or snacks create a mess on the seat, you simply wipe it off. If deeply stained remove the seat pad and head pillow and machine wash. No stress.
The Evenflo Chase Harnessed Booster provides complete protection to the occupant. It shields the child from side impacts, protects the head and neck from sustaining injuries in case of an accident.
What previous customers who bought this booster car seat said:
It's very simple to remove and transfer to another car. Even the installation process is pretty simple.
I didn't know the level of protection Evenflo Chase Harnessed Booster offers until we had an accident with my son. He escaped without any harm.
My son feels comfortable in that, he easily drifts to sleep on a long ride.
Pros
Simple to clean machine washable parts.
Grows together with your kid.
Cons
Doesn't have recline feature.
Seat depth needs improvement.
---
2. Chicco KidFit 2-in-1 Belt-Positioning Booster Car Seat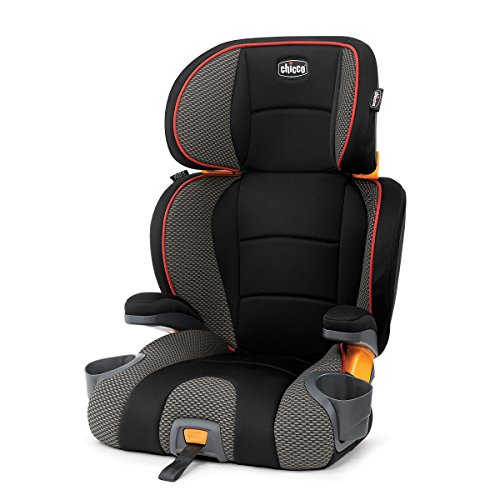 Unlike the Evenflo Chase Harnessed Booster that uses the 5 point harness system, the Chicco KidFit 2-in-1 Belt-Positioning Booster Car Seat uses a different technology. It repositions the seat to the correct height to match the vehicle's seat belt through the orange rings. To the child that's correctly positioned in the Chicco KidFit Booster Car Seat, it offers both the head and shoulder side-impact protection.
This car booster offers two in one protection mode as both the back and backless mode. As the booster car seat for kids, it provides for 10 adjustment positions. Thus as your child grows you can easily adjust the seat level to any of the 10 positions as required. For older kids, simply convert it to the backless mode and enjoy its safety and comfort.
Installing and making an adjustment on the seat requires very little effort. The combination of the SuperCinch latch attachment and one-pull tightening provision provides for effortless tightening and adjusting to a snug fit position. As your child enters or leaves out the seat, the latch system helps to keep the seat still thus making it safe for the kid.
For even enhanced comfort, the seat can recline in two different positions thus mirroring a vehicle's recline position. The construction of this convertible Chiccokid fit car seat uses the double foam padding and countered seat. And when the child falls asleep it still feels comfortable; he just lays his head sideways.
With two foldable cup holders, your child can have snacks and drinks close by. And when not in use, simply fold them away. In case he messes on the seat, you don't have to worry. Simply remove the machine-washable seat pad, armrest cover, and cup holders. That makes cleaning easier, doesn't it?
What previous customers who bought this car booster seat said;
I like the way this seat is super easy to install. The one-pull tightening is just superb.
When my daughter falls asleep her comfort is still assured; no slouching of the face forward. Thumbs up to Chicco KidFit 2-in-1 Belt-Positioning Booster Car Seat
How I hate the project tile behavior of unoccupied car seats. Fortunately, this car seat takes care of that behavior.

 
Pros
Quickly converts to backless mode.
Cup holders are foldable and removable too.
Fits many ages as back heights adjust to 10 various positions.
Cons
Expensive
Not compatible with cars having unmovable headrests
---
3. Graco AFFIX High Back Booster Seat with LATCH System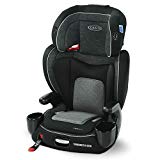 When you choose Graco AFFIX High Back Booster Seat with LATCH System, Grapeade you are opting for a seat that has undergone and passed rigorous crash tests. As such the booster seat provides frontal, side, rear, and rollover protection for your 5-year child. Furthermore, it employs the energy-absorbing foam and thus offers maximum impact management. So in case of an accident, the Graco AFFIX High Back Booster Se provides all-round protection
The 15.5 inches deep high back car booster seat quickly converts to the backless mode when needed. Although it has a secure connection, it's so simple such that it can be accomplished by an independent child. Tightening and making other minor adjustments can be done from the frontal seat position.
While in the high back mode it's ideal for the child that weighs between 30-100lbs and has a height of 38 to 57 inches. Otherwise, if you desire to use it in the backless mode make sure your child weighs between 40 to 100lbs and reaches between 40 to 57 inches high. Owing to that high range, it will protect your child for over a protracted period. Furthermore when the child has grown older then you can simply switch to the backless feature.
It offers maximum comfort to a child. For example, it has the multilayer comfy headrest which is also fully adjustable. Thus you can adjust it to different positions till the toddler attains his comfort. To keep your child glued to his seat this convertible booster seat has integrated cup holders. A bonus hideaway drawer has also been added to its long list of features.
Overall, this seat has been styled with all the comfort features your child may ever think of.
Besides it also utilizes the sturdy constriction and hence promises maximum impact safeguard. And did I tell you that it has the open-loop belt feature that helps you to position the vehicle's seat belt accordingly?
What previous customers who bought this car booster seat said:
Its construction provides for simple, quick mounting and dismounting.
It has a pretty little hideaway storage compartment at the side.
The fully adjustable headrest adds so much to its comfort.
Pros
Features a pull out drawer.
Front accessed LATCH tighgtener.
Extra comfortable headrest and seat pad.
Cons
Cup holder isn't large enough to accommodate big cups.
Drawer not easy to pull out when seat is occupied.
---
4. Graco Tranzitions 3 in 1 Harness Booster Seat, Kyte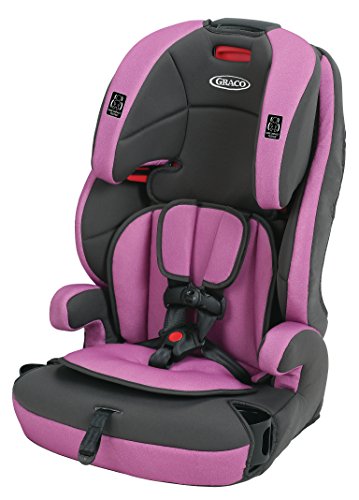 If you regularly travel and swaps between one vehicle and the next with your child, then this Graco Tranzitions 3 in 1 Harness Booster Seat is ideal for you. With a lightweight of 17.7lbs, you won't feel any strain in your muscles as you carry it from one car to the next.
When you choose this booster you get to enjoy its three different functions; harness, high back, and backless booster. You can count on this booster's protection since it has passed rigorous crash protection including the side impact protection. And since it uses the 5 point harness system, it provides maximum restraint safety for a child.
Are you worried about your child's weight and height? You don't have to because this seat uses the safe adjust harness system over 8 different height positions. Moreover, it has been constructed in such a way that you can adjust the headrest and the harness' height in just one sweep with one hand. Even a fast-growing kid will benefit from this 5 positions adjustable headrest
As a harness booster, it accommodates a 5-year-old of weight bracket 22-65lbs and height 26.5-49inches. In addition as high back booster mode, a child of 30-100lbs of height 38 to 57 inches fits it's perfectly. Otherwise, for an older child, it stretches from 40-100lbs with a height range of 40 to 57 inches.
Kids love to eat snacks and drinks frequently. The urge even increases during trips. That's why this booster seat is equipped with a dual cup holder. And since you can't avoid the seat getting dirty over time, it provides for easy cleaning system. The seat pad, body parts, and the harness cover are machine washable. Even the metallic and plastic parts are simple to wipe clean with a damp cloth.
Positioning your child to fit on the booster seat is straightforward even to the inexperienced parent. The three in one car seat booster employs the open-loop system so as to direct the vehicle's seat belt to fit snugly across the occupant.
What previous customers who bought this booster car seat said:
It does smartly what it's supposed to do and moreover, it's very easy to adjust (with one hand) and fit kids of different ages
Its comfortably padded and can grow together with the child
This car sear has all the protective features for my child and kept him alive during an accident. I really love its 5 point adjustable headrest.
Pros
Provides 8 positions headrests
Features narrow design
Accommodates wide range of heights and weights
Cons
Not simple to install in some cars
Lacks push-on connectors
---
5. Evenflo Big Kid AMP High Back Booster Car Seat, Static Black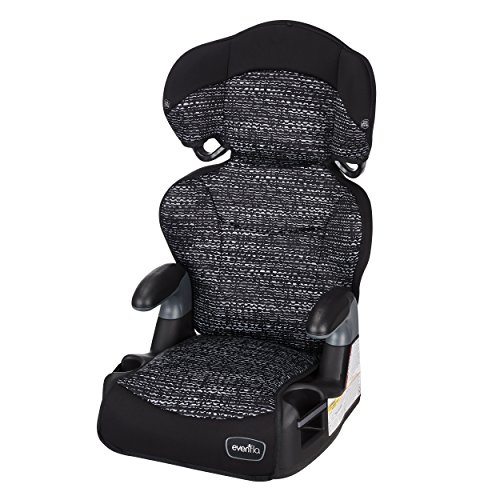 If you've got a slightly older kid that requires little boost so as to fit a vehicle's seat belt then this is the car seat booster to think of. When you engage the backrest, this seat is ideal for a child of height between 44 to 57 inches. It features the carefully thought design that easily transforms from high back to backless booster-style in no time.
Once you buy it for your child he won't easily outgrow it. The car booster provides six different positions for height adjustments. And effecting such changes isn't challenging, it can easily be accomplished with one hand. Even when you are handling the car seat booster for the initial time, it won't give you a hard time. It gives you the belt clip that enables you to position the belt quickly around your child's shoulder.
Do you have a kid that's very inquisitive? Silence him with drinks and snacks in the provided cup holders. That gives you plenty of time to concentrate on other important matters. Worried she will create a mess? Worry no more, the seat pad is not only removable but also machine washable.
To satisfy the taste of various kids, the Evenflo Big Kid AMP High Back Booster Car Seat exists in different cool colors and patterns. And even when you are cruising down the lane for longer hours, the padded seat keeps the child comfortable. Moreover, it accommodates children of wide weight range down from 30lbs to 110lbs.
What previous customers who bought this booster car seat said:
This seat is very easy to buckle and unbuckle.
My older son loves the comfort provided by the backless car seat booster function.
The two cup holders hold drinks close by and thus easily distract my child. That leaves me with more time to concentrate on driving.
Pros
Accommodates bigger kids due to high back feature
Headrests adjust to 6 different positions
Easy to transfer from one car to the other
Cons
The car seat has some plastic parts
---
FAQ (Frequently asked questions) about Car Booster Seats
Should my five year old be in a car seat or booster?
This is a very key question to be answered if you have a 5 year old child. You need a proper answer before you decide to buy a car seat.
There is a height and weight limit for any car seat. If your child outgrown that, then it's time to consider moving them to a booster seat.
From the booster seat, you can move your child to the normal seat as soon as they can seat on the normal seat with the seat belt not causing issues.
Do verify the right age as per the state laws too.
How will I know when a car seat booster is installed correctly?
First, follow the manufacturer's installation instructions. Next, press the base of the car seat to drive away all the cushioned air then re-tighten again. With your hands on the belt, try to move the car seat forward and back, left to right. If it is tightly in the position it shouldn't move more than an inch.
Try to pinch the strap from the child's shoulder. If you can pick a wrinkle then it means it isn't tight enough. Retighten it to a snug fit position
How do I choose the best car seat?
The best car seat isn't about a particular model. Rather make sure that your child's age, weight, and height agrees with the car seat's recommended specifications. In addition, it should also fit correctly in your vehicle. Lastly, it should provide comfort, safety to the child and easy to install every time.
Is there a difference between high back and low back car seat boosters?
Yes. High back booster car seats are meant for cars either without headrest or feature low seatbacks. On the other hand, low back boosters are fitted on vehicles with headrests and also designed with high seatbacks. Remember the weight limits for these two types of car seats differ.
When should my child upgrade to a booster seat?
Small children should use 5 point harness car seats and face forward until they outgrow the upper weight and height limit of the seat. So check the car seat's manual or label to determine whether your infant is old enough to switch to booster seats.
Can I wash my car seat?
Well, children can be messy and often they are. Although every car seat has its own manual, many have removable seat covers and headrest. So check first what your manual says. You will find that most car seats for children have removable cushion garments and machine washable too.
Here is a video that shows you how you can wash a child car seat:
---
Conclusion
So next time you go shopping for a car seat for your 5-year-old daughter or son, you know how to go about it. Don't make your judgment based on prices but rather features of the car seats. That's why we have listed the best car seats above to ease your selection. Before you pick on any car seat make sure it fits the weight and height bracket range for your child.