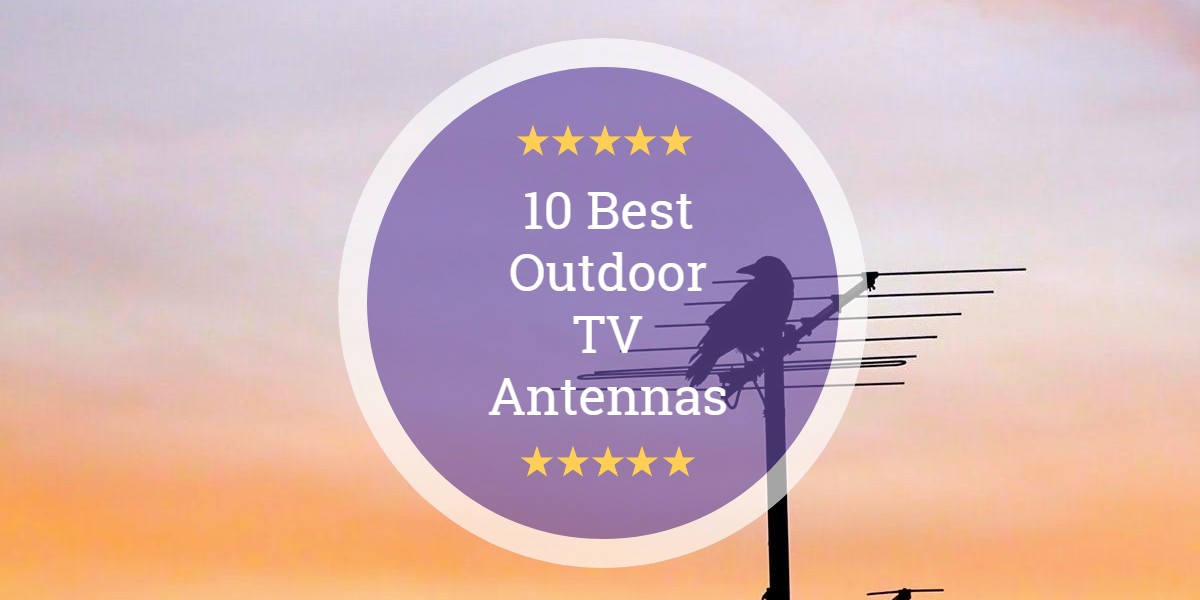 Looking to ditch the cable service provider? I'm not surprised. You are eventually paying thousands of dollars every year for dozens of useless channels that you hardly watch.
How about paying one time for only the channels that you like viewing? News, sports, movies, kids' channels – the best experience of HD channels is offered only by an outdoor TV antenna.
Best Outdoor TV Antenna 2018
In the market, you'll find a myriad of outdoor antennas. All works great in the metros and in cities but fail to perform when installed in the countryside. Does that imply sacrificing your favorite channels in order to live in the lap of Mother Nature?
Certainly not.
Here, We have reviewed 8 such outdoor antennas for rural areas that are capable of receiving excellent HDTV signals from far located broadcasting stations.
Last updated on April 24, 2018 2:30 pm
1. ViewTV Outdoor Amplified Antenna – Best Outdoor Antenna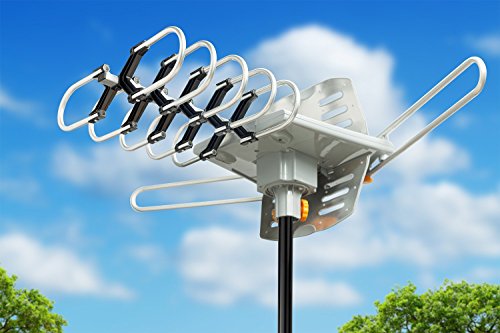 If you are buying a ViewTV outdoor antenna, this is the best TV decision you are making. If yours is a digital TV or it has an accompanied digital converter box, this is the antenna that shows you a handful of free channels.
The antenna comes with a wireless remote controller. It is weather resistant and you can mount it anywhere in the outdoor 30 feet above the ground level. Subject to your locality, you can expect good reception mounting it also inside the house. Assembling it is a matter of minutes.
The antenna works best within 150 miles range. It has a built-in high gain and low noise amplifier. You can rotate the antenna 360 degrees taking help of the built-in motor. There is a control box which allows dual TV output.
This is the best antenna if you are living in a village or in a rural area. Subject to your location, you can watch maximum70 full HD channels with it. The antenna works fine as long as you are within 150 miles range.
Considering its features and functionality, it can be fairly concluded that it is a great investment. The manufacturer supports you with all sorts of guidance and service assistance.
Customers who purchased this Outdoor TV Antenna said:
The antenna brings excellent reception in HD.
It not only receives channels from broadcasting station in front but some extra channels from the station in the opposite direction.
It withstands windstorms and ice storms and works fine with minimal disturbance.
2. 1byone 80 Miles Digital Amplified Outdoor Antenna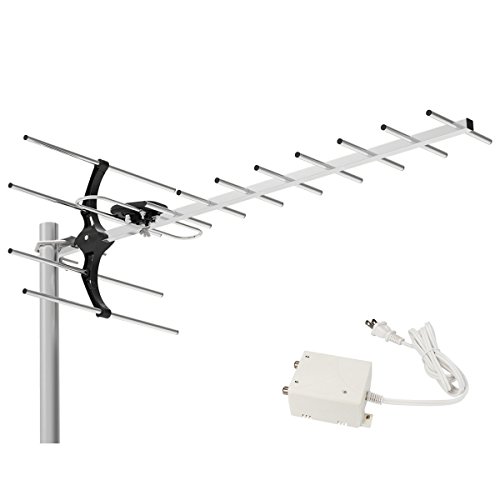 Researching long range TV antennas, no one would say no to 1byone Digital Amplified antenna. A relief from paying mounting cable bills, this is the antenna that brings to you most of your local channels free of cost. Full HD sound and picture qualities at the most reasonable one-time price – the antenna is the best option to say goodbye to your cable connection.
Mount the antenna in your attic or on your rooftop and connect it to your television using a coaxial cable. Make sure your TV has an inbuilt tuner capable of receiving HD channels. Otherwise, buy a digital converter box. Now scan for the channels.
It catches signals from maximum 80 miles distant broadcast stations. The number of channels depends on your location but you can easily end up viewing 70-75 ultra HD, full HD and 3D channels. At times, you'll feel like watching live television. The antenna perfectly receives signals of broadcasts in Dolby 5.1 sound.
Irrespective of your area topography, it is sure to bring you best HD experience. You are in luck if live midway between two big metros. This single antenna is capable of catching the signals of most of the two cities' broadcasts.
The construction of the antenna is such that it can withstand frequent adverse weather conditions. Despite that, the manufacturer offers a 12-months warranty and a 30-days money back option on the antenna. This is indeed a great choice if you're looking to buy your elderly parents a satisfying gift.
Customers who purchased Outdoor HDTV Antenna said:
It is easy to assemble and install. Do it all by hands; no tools are required.
You can split the reception in a number of television devices and there is no deterioration in the signal.
The antenna is small-built but durable.
3. 1byone 85 Miles Digital Amplified Outdoor Antenna – Best TV Antenna for Rural Areas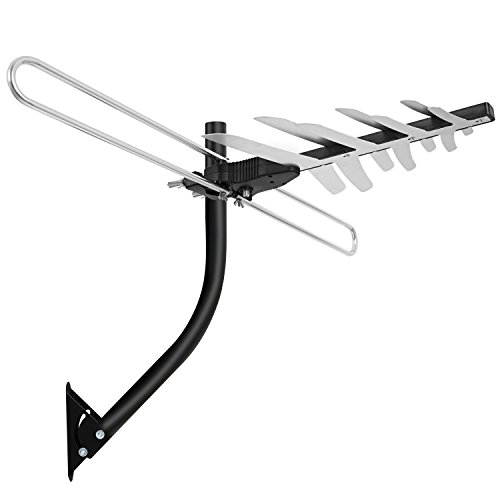 Looking for an antenna to view all your local VHF and UHF channels? This is the antenna that gives you the best quality reception of these channels. With a broad range of 85 miles, you can trust the same to catch the signals from far away towers. Believe me! Your HDTV needs this to show the best performance.
Unlike many of its competitors in the market, the antenna comes with all required installing accessories. You get a built-in high gain and low noise amplifier that adds to your viewing experience. The price of the antenna includes that of the mounting pole also. Isn't it an outstanding deal?
The antenna comes well-packaged. Eventually, it needs no assembling. Installing it is also easy. But first, check with sites like receptionmaps.com to know in which direction most of your local stations are located. Install the antenna in that direction. Still have a problem? Contact the 1byone service team. They provide awesome support.
Open up the ears and tighten the screws. Fix it with the pole and connect the coaxial cable. Switch on the amplifier and insert the other end of the coaxial cable to your television. You only need to scan the channels thoroughly to locate your favorite broadcasts.
A product of the reputed 1byone brand, the antenna is made using most advanced signal reception technology. The technical specifications are very similar to the 80 miles antenna. Owning this means you join the clan of company's 30 million satisfied customers. What's more? The antenna is backed up by the same warranty and money back policy as its other siblings.
Customers who purchased Outdoor TV Antenna said:
The antenna receives strong signals even in bad weather.
The performance of the antenna is much better than the cable TV networks.
It works fine even without an amplifier.
4. RCA Compact Outdoor Yagi HDTV Antenna – Best HDTV Antenna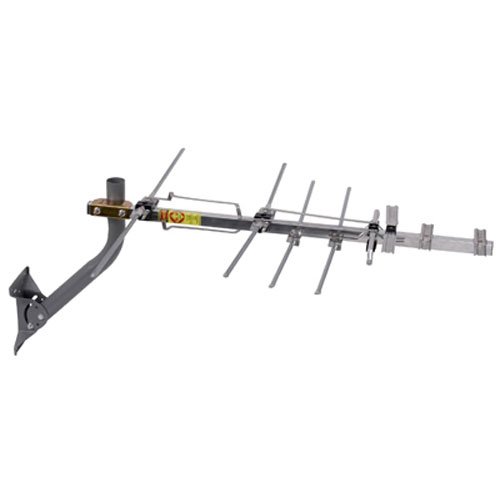 Get introduced to a small antenna, big in performance! This is the outdoor TV antenna to choose for reliable HD picture and sound. You can enjoy full 1080 HD broadcasts. A completely made in USA product it has a certification from Consumer Electronics Association (CEA).
The cross-phase design works best to pull in maximum content from your nearby areas. It is even possible to combine it with streaming devices like Xbox and Apple TV.
This is no doubt a durable product. Made up of aluminum, steel and plastic, this is the antenna that resists all sorts of adverse weather effects. You don't even need to place it outdoor always. The antenna is a good choice to use the spare space in your attic.
Subject to your location, you can expect to enjoy around 50 digital and analog channels and a few radio stations of your nearby largest city. It is expected to receive red, yellow, green, light green, blue and to some extent purple stations.
The antenna covers a 60 miles range. Combine it with a low noise preamplifier like Wingard LNA Preamp for best results. With the amplifier, the antenna assures almost 100% UHF signal strength, 50% VHF channel 11 signal strength and 80% channel 13 signal strength.
You only need a drill for installation. Everything else, except the coaxial cables, is there in the packet. There are 4 splitters included in it. So, you can receive channels on 4 different devices.
Customers who purchased this Outdoor TV Antenna said:
The channels display on multiple television devices simultaneously without sacrificing the sound and picture qualities.
Absolutely no adjustment is necessary once you install it following the instructions.
The strengths are appreciable even for the signals received from the back of the antenna.
5. Winegard FlatWave Air FL6550A Amplified Digital Outdoor HDTV Antenna – Best Digital Antenna for Rural Areas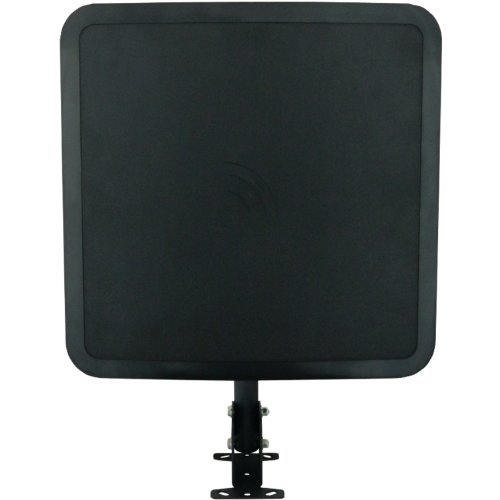 How about enjoying free HDTV without mounting bulky long range TV antennas? Winegard FlatWave Air FL6550A is your affordable, indigenous solution. The antenna is created to offer you full HD experience, thanks to the Clear Circuit technology. Both UHF and VHF channels are received with utmost clarity from even a 60 miles distance.
Easy to understand, that the reception quality depends on the topography between you and the broadcasting towers. But given the amplifier, the antenna is sure to bring you your favorite free and paid channels from the nearby cities. A good idea is to pair it with streaming devices like Chromecast. Your options would significantly broaden.
The antenna is thin like a paper and gives a look of a laminated plastic. It is lightweight and easy to move. It has a dimension of 14" x 14" x 4". The product comes with a 1-year replacement guarantee.
The package also includes an 18 feet coaxial cable and a low noise, state of the art, split band digital amplifier. For best results, install it on the wall just behind your TV. Use the stickers provided in the package to attach the antenna to the wall. Move it a little as necessary to receive strong signals. Alternatively, you can install in on the windows as well.
Doesn't matter if your TV has no USB port. You can use your already installed cable wiring to connect the TVs to this antenna using only a splitter.
Customers who purchased this Outdoor TV Antenna said:
This is the only outdoor antenna that brings to you crystal clear VHF signals even from a 65 miles distance.
If you live in border areas, this is the best antenna to have.
This is a great option for those who don't have provision for installing a large-built antenna.
6. Vilso TV Antenna Outdoor Amplified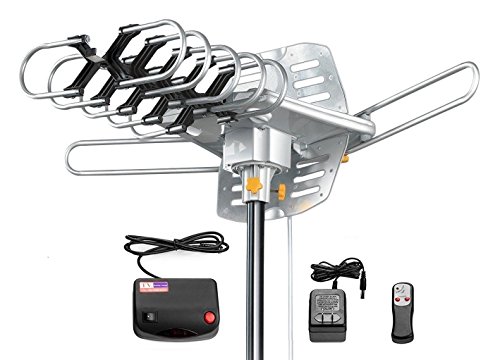 The antenna offers you full HD support up to 1080p. It ensures great picture and sound qualities, both for UHF and VHF channels. This outdoor TV antenna is controlled by a wireless remote supplied with the antenna.
There is a built-in motor inside the antenna that lets you turn it 360 degrees in both directions. The low noise, high gain amplifier supports it to receive and convert signals for better HD quality. Also included in the package is a control box that ensures dual TV output. With the help of the remote, rotate the antenna to receive signals from various directions.
You only need to find a 1-inch diameter pole to mount the antenna on your rooftop or in the attic. Any tripod or light stand can serve this purpose. For best results mount it 30 feet above the ground. It is made up of aluminum and plastic and is meant to survive outside weather. If you have a portable HDTV, you can take the antenna anywhere you want.
This is a great antenna if you are living in a rural or semi-urban area surrounded by large trees, mountains etc.  Even during rain, snowfall and thunderstorm, the signals of major channels wouldn't interrupt. Small channels suffer a setback for a couple of minutes returning to usual picture and sound quality soon.
With a little engineering know-how, it is possible to install the antenna even inside the house. Those who live in apartments may try installing it at a glass door.
Customers who purchased this Outdoor TV Antenna said:
Assembling the antenna is super-easy. You don't even need to look at the instruction manual.
This is a great antenna for those who live in the woods.
The antenna is worth its price.
7. ANTOP 65 Miles Omni-directional 360° Reception Amplified Outdoor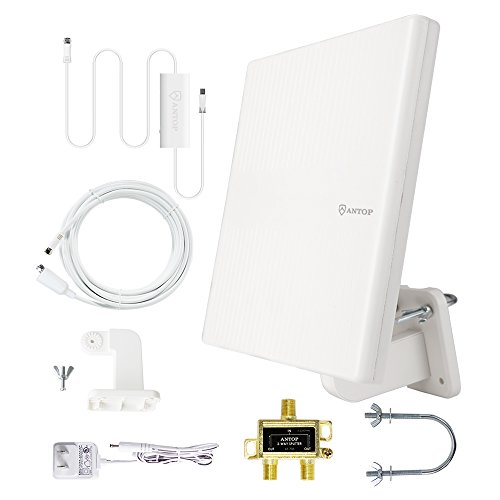 Which antenna gives you the flexibility of outdoor as well as indoor installation maintaining the same quality of HD signals? The one and only Antop 65 miles amplified antenna. From the rooftop to the balcony, from the attic to the exterior wall, you have multiple choices of places to mount the antenna.
What makes this antenna unique is its 360 degree Omni-directional rotation. You don't need a remote control to adjust the direction of the antenna for better reception. It pulls the channels in from maximum 65 miles distance in any direction. It also includes a built-in filter to remove the disturbances of 3G and 4G wireless signals.
Durability is never a concern for this antenna. It is made up of UV guard, water-resistant and snow-proof materials. In addition, seller's 24 hours online customer support is there to guide you in any concern. 12-months warranty and 30-days money back guarantee are also there to ensure worry-free buying.
Assembling and installation are never going to daunt you. The antenna has a slim panel design allowing multiple ways for installation. Online installation assistance is offered by the seller 24×7.
The package also includes a signal splitter to let you use two television devices simultaneously. Other necessary accessories for installation e.g. coaxial cable, outdoor bracket etc. are supplied with the antenna free of cost.
Choose the antenna for amplified range and high-gain performance. Far better signal frequencies are ensured for VHF and UHF channels compared to any traditional bulky antenna.
Customers who purchased this Outdoor TV Antenna said:
This antenna is ideal for RV homes.
The 65-mile coverage is actually a conservative measure. In most of the locations, the antenna is capable of receiving more than 90 channels from 80-mile distant broadcast stations.
This is the best antenna if you live in an OTA TV challenged locality.
8. Sobetter HDTV Antenna Outdoor 150 Mile Long Range Amplified Digital Outdoor TV Antenna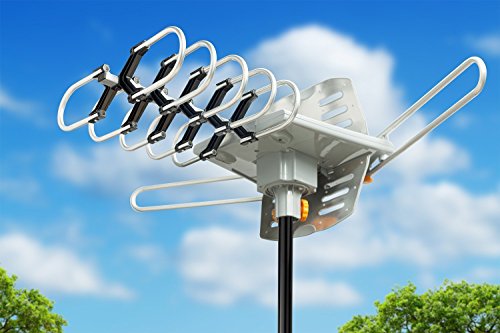 To enjoy all your favorite UHF, VHF, FM and radio channels, Sobetter HDTV antenna is probably the best option. It offers full HDTV support up to 1080p and supports 2 TVs within the same house.
Along with the antenna, you'll also get a 33 ft. long coaxial cable. It doesn't matter how far you mount the antenna from your television. Installing the antenna is quite easy if you follow the manual supplied with it. For mounting it, you would need a 0.75-inch pole. In case there is an issue during and after installation, you can make use of the 12-months warranty and 30-days money back guarantee.
Remarkable HDTV shows are ensured because of antenna's broad 150 miles range, 360-degree angle rotation and wireless remote control operation. You can also pair it with your streaming box to enjoy seamless family entertainment.
For the 150 miles range, it is sufficient to mount the antenna at 60 or 70 inches above the ground level. To get reception from further located stations, mount it as higher as possible. But remember! Never mount it on your chimney.
The antenna is made to last. Adverse weather conditions don't really affect its performance. However, sometimes due to strong wind, the antenna may rotate a bit. Use the wireless remote to bring it to its usual position.
Customers who purchased this Outdoor TV Antenna said:
In a remote low-lying area where cable network is non-existent, this is the best option to enjoy TV shows.
The color of the shows significantly improves when you switch from a cable connection to this antenna.
The product is a good value for your hard-earned money.
Conclusion
Finally, you are back to the time when television was free. I have given you the best long range TV antennas in the market and all their relevant details. Now it is your turn to act. Remember, it's ShowTime!
Resources: